Since 1 January 2022, France has been in charge of the Presidency of the Council of the European Union. For the upcoming six months, they set a number of priorities for the Presidency:
continue working on a more inclusive, sovereign and democratic Europe, following the sovereignty agenda set in 2017
negotiate and/ or adopt European laws important for digital transition, ecological transition and social issues
help prepare the Europe of tomorrow with investments, protection of democratic values, the youth, culture, and health support
seek to meet citizens' expectations and needs through the Conference on the Future of Europe
The Presidency's motto is Recovery, Strength and a Sense of Belonging.
Have a look at how project partners from France work together with others in Interreg Europe.
France involved
France is one of the founding members of the European Union. With its population of over 67 million, it is also one of its largest members. This is reflected in the involvement in the interregional cooperation projects:
98 project partners bring to France new ideas from other corners of Europe and share with others good practices originating in France.
78 of the 258 running Interreg Europe projects have French partner organisations
19 projects have a French lead partner.
French partners improve policies
The cooperation interest of French partners reaches across all four programme topics.
Image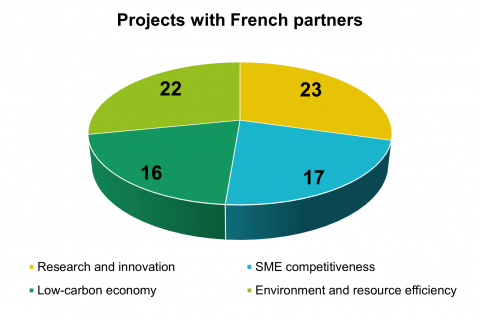 Thanks to interregional cooperation and policy learning, 27 policy changes and improvements have already taken place in France. 13 changes are linked to the Structural Funds programmes. The French project partners mobilised over MEUR 18.7 of funding for implementation of the changes. MEUR 11.7 come from the Structural Funds.
Click on the project acronym and find out about a few selected projects and some of the policy changes or testing inspiring good practices from other European regions.
Good practices from France
Inspiring good practices from France are manifold and available for all in our good practice database. The Policy Learning Platform experts have validated 115 good practices from France so far. See a few recent examples:
Whether you are looking for ideas or new solutions in the field of research and innovation, SME competitiveness, low-carbon economy, or the environment and resource efficiency, there are plenty from France in our database.
Discover more about French participation in Interreg Europe
Cover image © France Diplomatie - MEAE