Strengthening regional innovation ecosystems with innovation vouchers
Image
Webinar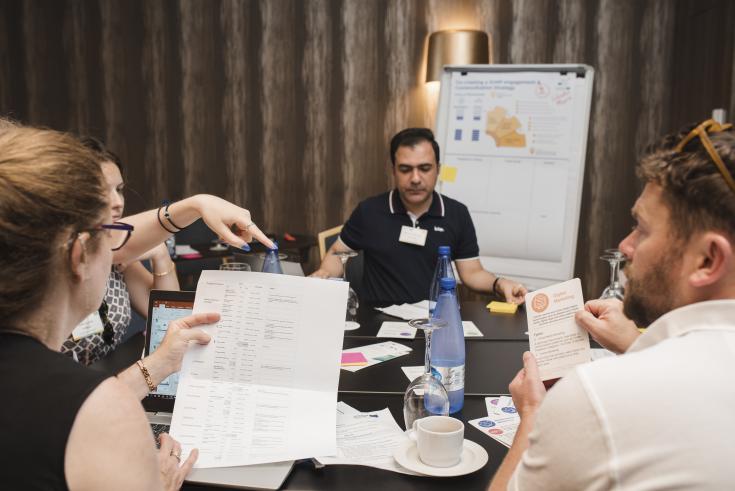 On 8 March 2023, the Policy Learning Platform held a webinar on the topic of innovation vouchers. In this webinar several practices and lessons from different Interreg Europe projects were featured:
BRIDGES project: supports centres of competence and S3 implementation.
INNOBRIDGE project: aims to accelerate the commercialisation of R&D results.
S34GROWTH project: aims to promote interregional industrial value chains.
Explore the webinar recording, key learnings and presentations below. 
Innovation vouchers have three main objectives:
To stimulate the introduction product, process, organisational or service innovation in SMEs, which tend to lack leading-edge knowledge compared to large companies or innovative start-ups.
To promote science-industry collaboration and stimulate knowledge transfer. Indeed, SMEs tend to have limited exchanges with universities and research centres due to information asymmetries such as the cost linked to the identification of relevant information providers. Moreover, universities and research centres tend to have difficulties in finding users of their research.
To foster the formation of networks between SMEs and other academic, research and private partners. Innovation vouchers can be the catalysts for longer-term relationships and collaboration (read our article on voucher schemes: zooming in on innovation vouchers).
Webinar agenda
Concept and moderation by Arnault Morisson and Marc Pattinson, Thematic Experts of Research and innovation.
00:01:02 Introduction by Arnault Morisson to the Interreg Europe Policy Learning Platform and topic of innovation vouchers 
00:12:56 Presentation by Dorota Skwarek from Marshall Office of Lubelskie Voivodeship, Poland, on voucher for innovation (BRIDGES project)
00:23:01 Q&A: If we look at the regional level, to what extent are the innovation vouchers aligned with Smart Specialisation priorities? 
00:25:44 Presentation by Jukka Reunavuori from Tampere, Finland, on Tampere Region Innovation Voucher (INNOBRIDGE project)
00:39:04 Q&A: You mentioned 400 service providers and few criteria, could you tell us if you have a screening in place? 
00:40:43 Q&A: Is there some sort of eligibility check beforehand? 
00:42:42 Q&A: Were the service providers active in promoting the scheme? 
00:44:52 Q&A: In the end an invoice is issued by the provider to the voucher recipient. Does this mean that the amount is paid to the SME beneficiary? 
00:48:54 Presentation by Susana Larrea from SPRI - Basque Business Development Agency, on Basque Digital Innovation Hub KONEXIO (S34GROWTH project) 
00:59:31 Q&A: How did you identify the other digital innovation hubs? 
01:01:47 Q&A: Are you planning to do anything to accelerate the interest or awareness of the programme? 
Panel discussion
01:04:12 Q&A: How is the adequacy of the voucher amount with the service offered assessed? 
01:13:42 Q&A: To what extent do you use external intermediaries for promoting the innovation vouchers to SMEs? 
01:19:52 Q&A: What about respective state aid rules connected to vouchers? 
01:22:26 Q&A: Do you make use of match funding (SME has to provide missing percentage of fund)? And does this create a barrier for SMEs to apply? 
Key learnings
From this webinar, we can highlight some key insights for local and regional policymakers:
Innovation vouchers are a very flexible policy tool to respond to specific regional ecosystem needs and/or SME needs.
 
They serve as a catalyst for small and medium-sized enterprises to participate in research and development initiatives, especially for the first time.

They offer an incentive for SMEs to change their mindset and to show them that it is possible to engage in innovation projects. Moreover, thanks to their low barriers of entry, innovation vouchers are an excellent starting point for SMEs to start engaging with other regional innovation policy support measures.
 
Innovation voucher schemes should be administratively simple to ensure they are attractive to SMEs (effort to apply versus amount of funding available). The Tampere region innovation voucher initiative allowed companies to choose service providers under a first-come, first-served basis, without

public authorities

' pre-selection, as there was no competitive tendering process.
Innovation vouchers can be considered as "De Minimis" aid and are thus exempted from

State aid

control, as they are deemed to have no impact on competition and trade in the internal market of the European Union (EU).

De minimis aid indeed refers to small amounts of State aid to undertakings (companies) that do not have to be notified to the European Commission by the EU Member States. The maximum amount is € 200,000 for each undertaking over a 3-year period (see De minimis rule).
Have a look at our all good practices on innovation vouchers.