Cutting oil use – the contribution of Interreg Europe projects
Decarbonising our energy system is crucial if we are to avoid the worst impacts of climate change. This means completely cutting out our use of fossil fuels and transitioning to low-carbon and renewable energy resources – and doing so rapidly.
The challenge is more pressing than ever in the face of Europe's current energy crisis, resulting from Russia's invasion of Ukraine, which has thrown global energy markets into chaos. With Russia being the world's third-largest oil producer and second-largest gas producer, decarbonisation presents an opportunity to both tackle climate change and undermine Russia's war of aggression.
While the scale of the challenge is large, the technologies and approaches are available and constantly maturing. As the International Renewable Energy Agency (IRENA) notes, the cost for utility-scale solar photovoltaics fell by 85% between 2010 and 2020, while a total of 664GW of renewable power generation was added, with estimated costs that have been lower than the cheapest fossil fuel-powered option in each respective year.
While electricity markets mature, the transition is particularly tough in transport, where emissions continue to grow. In several EU countries, governments have chosen to subsidise fuel costs, rather than encourage reduction in their use, but others are introducing measures to encourage a shift to public transport and to minimise use.
The IEA's Ten-Point Plan to cut oil use
Such measures have been encouraged by the International Energy Agency (IEA), which has issued a ten-point plan for reducing oil use by 2.7 million barrels a day, to be implemented by policy makers at national, regional and local level, or voluntarily followed by citizens and businesses. The ten points are:
Reduce speed limits on highways by 10km/h – A measure to be implemented at national level to reduce fuel consumption, as many states did during the 1973 oil crisis;
 
Work from home three days per week where possible –Many businesses adapted to work-from-home conditions during the COVID-19 pandemic, making this an easy measure to implement at company level;
 
Implement car-free Sundays in city centres – This measure can be introduced at city level, and is widely implemented once a year in cities during the European Mobility Week, while others pursue full pedestrianisation as a policy;
 
Make the use of public transport cheaper, and encourage walking/cycling and micro-mobility – This measure can be implemented at several levels by subsidising public transport costs or expanding cycling lanes;
 
Alternate private car access in cities – For example, by limiting access to city centres alternately for cars with an odd or even registration plate;
 
Increase car-sharing – At the regional and city level, this can be promoted via carpooling lanes, dedicated parking spots at transport hubs or reduced road tolls for multiple-occupancy vehicles;
 
Ensure efficient use of freight and heavy transport – Freight companies can check tyre pressure and train drivers for efficient fuel use through eco-driving, and optimise vehicle loads to reduce empty travelling;
 
Use overnight trains to replace short-haul flights – High-speed rail can replace short-haul flights if rail services can improve their timetables and bring down costs to be attractive to users;
 
Reduce business travel where alternatives exist – Businesses developed new ways of having online meetings during COVID-19, that can be returned to during the energy crisis;
 
Accelerate the adoption of electric and more efficient vehicles – With current bottlenecks in raw materials and semi-conductors, authorities can co-ordinate logistics to get cars to market, and may prioritise fleet modernisation over private cars.
Lessons from Interreg Europe
While the International Energy Agency's (IEA) points are intended as short-term interventions, many regions have been exploring these issues for the long-term and have identified and started to implement innovative approaches within Interreg Europe projects, which can provide inspiration on further activities to support reductions in fossil fuel use.
Image
Good practice database
Get inspired by good practices from projects in our good practice database.
Image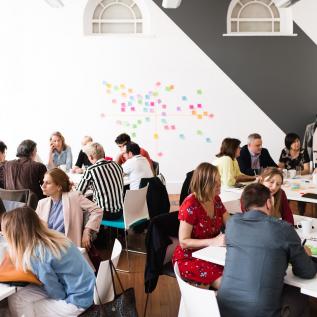 Policy advice services
Explore the personalised services we provide for regional support.