Upcycle trash into Christmas decoration
09 Dec 2021
17 : 00 - 20 : 00 CET
In person | OSTRAVA, Czech Republic
Christmas edition of SWAP & SEW: Upcycle trash into Christmas decoration
Upcycling is as old as humanity itself. It is the transformation of no longer serving but still usable objects into new objects of either the same or different value. Upcycling is about re-using materials and products, extending their life-cycle and saving resources.
Image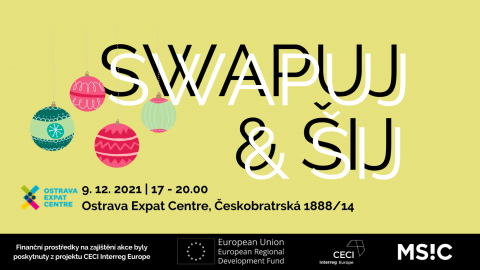 And you will be able to try it in practice. Sewing machines will be available on-site, where you can try to sew your own simple decorations made out of "trash" or not wanted clothes.
The textile industry is one of the most polluting industries in the world and 200,000 tons of textile waste are thrown away in the Czech Republic every year. It is a consequence of consumer society. And we want to contribute at least a little to the shift of values and prevent textile waste. Therefore, we will show people another way to experience the good feeling of "buying clothes" and that is a swap. In other words, we will be exchanging things we don't need anymore for other stuff that someone else would like to say goodbye to. Come and join us in trying this modern alternative to shopping in traditional stores.
Centre of circular fashion in Ostrava will be your partner in this new experience. The centre is a kind of lab for sustainable fashion practices. It is a place where a lot of things happen:
- pupils can learn about fashion, the current system of this industry, its environmental and societal impacts, marketing, greenwashing but also solutions for circular future
- creators of all sizes can come and ask for help when choosing new innovative materials or trying to upcycle old deadstock
- individuals can (learn to) sew in our workshop, swap, visit pop-ups of local designers, happenings and other awareness-raising events