Promoting sustainable tourism: Green Scheme of Slovenian Tourism
Image
News
The Green Scheme of Slovenian Tourism (GSST) is a national tool and certification program for promoting sustainable tourism in Slovenia. The tool has been identified as a good practice by Interreg Europe CircE project as part of interregional learning process. CircE project brings together eight partners from regional and local level and aims to encourage the transition of the economy towards a circular model.
The GSST aims to combine all efforts directed towards the sustainable development of tourism in Slovenia. The key strategic objective of the scheme is to introduce sustainable models to Slovenian tourism, tourism service providers and destinations. Specifically, it focuses on:
offering tools to destinations and service providers that enable them to evaluate and improve their sustainability endeavours,
promoting these green endeavours through the SLOVENIA GREEN brand.
Slovenian Tourist Board manages and develops the scheme, offers education, and international promotion for Slovenia Green (SG) destinations and service providers. Association for Sustainable Tourism GoodPlace has a license to make assessments using the Green Destinations Standard and is a Green Destinations partner. The GSST is based on international sustainability criteria. To obtain the Slovenia Green Destination label (bronze/silver/gold), the destinations must meet the Green Destinations Standard criteria, while providers first obtain/present one of internationally recognised labels that are also verified by Slovenia Green. Having the SG Destination, SG Accommodation, SG Travel Agency or SG Park label increases the visibility of destinations, accommodation providers, travel agencies or parks and increases the level of promotion they receive through national and international channels.
Even though the GSST is about broader, sustainable approach, almost half of the indicators are (in)directly connected to circular economy. Based on those indicators, destinations develop action plans with measures for improving energy efficiency of buildings, waste management practices and efficiency of water use, using green energy sources and setting strict targets for waste disposal and recycling.
In addition, GSST enables destinations to compare themselves with other destinations from EU and beyond and based on that identify opportunities for further improvement and future actions.
The cost of membership in GSST, the sustainability assessment, and obtaining the Slovenia Green label for destinations is 1,220 EUR, while for the service providers the cost is 150 EUR. The fees do not include VAT. Currently, in Slovenia there are 37 destinations, 22 accommodations, 3 natural parks and 2 agencies, which comply with the green strategy and obtained the Slovenia Green label.
The Green Scheme of Slovenian Tourism is an inspiring example how to encourage destinations and tourism service providers to adopt standards of sustainability and stimulate innovation in tourism sector.
Image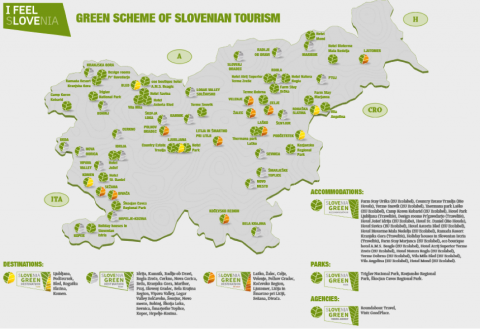 For more information, please visit:
Image credit: Photo by Krivec Ales from Pexels