Germany sets out its green priorities for Council presidency
Image
News
Germany has taken over the rotating Presidency of the Council of the European Union at a crucial moment for the EU, with the challenge of tackling the COVID-19 pandemic and finding agreement on the Multiannual Financial Framework (MFF) for 2021-2027, including the new European Structural and Investment Funds (ESIFs).
Setting out her priorities, Chancellor Angela Merkel has said that her Government will push for the approval of a net-zero target for the EU. With Germany now backing the move, there is a qualified majority for the proposals – a 55% CO2 reduction target by 2030 and net-zero by 2050 – to pass. 
'I am convinced that a global solution to climate change will only be possible if Europe plays a pioneering role in climate protection…It is important to me in this context that we enshrine Europe's aim to be climate neutral by 2050 in legislation,' she told the European Parliament on 8 July (Video and Text).
As well as supporting the proposed climate targets, Merkel also voiced her support for the European Green Deal and emphasised that the main focus of the Presidency will be the approval of MFF and accompanying COVID-19 recovery programme. 'We will work to ensure that the Green Deal helps overcome the consequences of the COVID-19 pandemic and promotes a sustainable and competitive economy,' reads the Presidency Programme.
Image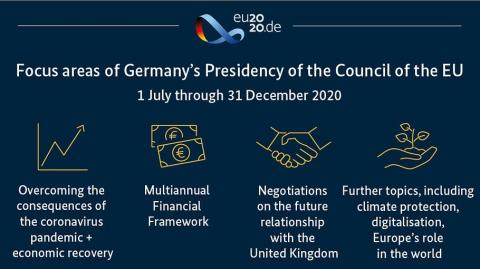 The presidency expects to also adopt conclusions on the new Circular Economy Action Plan and EU biodiversity strategy and commence negotiations on the 8th Environmental Action Programme.
The remainder of 2020 should see the publication of several new proposals under the European Green Deal, which will also be overseen by the German Presidency. These include the renovation wave, the offshore wind strategy, and a strategy on sustainable and smart mobility. Additionally, the Presidency has the ambition to update the EU Energy Diplomacy Action Plan to support the Paris Agreement globally.