Sustainability governance
27 - 28 Sep 2023
09 : 00 - 16 : 30 CEST
In person
On 27 and 28 September 2023, the Policy Learning Platform is hosting a peer review together with the City of Tallinn on the topic of sustainable governance.
The City of Tallinn has struggled to decarbonise its mobility system. In other energy-intensive sectors, there have been better results in reducing the carbon footprint, but the overall progress is not yet sufficient. They are therefore keen to improve its sustainability governance overall.
Specifically, the City of Tallinn want to examine governance under three pillars:
Policy development
Validate the relevance of the following actions:

Integrating SDG-s in urban strategies and building consensus around them
Embedding impact assessment into different processes
Monitoring of progress towards goals and targets
Implementing activity-based or phenomena-based budgeting to tackle complex sustainability challenges that span across traditional policy sectors 

Organisational development
Validate the relevance of the following actions:

Incorporating values and principles into organizational development
Developing new leadership skills to deal with 21st-century challenges
Fostering knowledge transfer

Multilevel governance
Validate the relevance of the following actions:

Setting up Public-Private-People Partnership (4P) frameworks
Fostering co-creation processes and cross-sector collaboration
Building trust through participatory and democratic processes involving citizens and local residents
The event is by invite only. The key learnings and the follow-up report will be shared afterward.
Image
Apply for a peer review
Are you interested in a peer review to find solutions for policy challenges in your region? Apply today. 
Image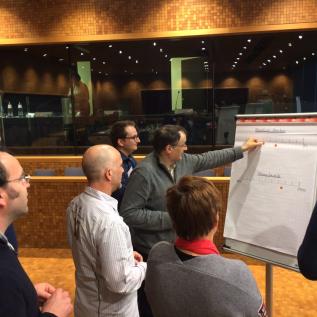 Peer review publication
Are you interested in learning about previous experiences? Discover them in our latest publication.