#europecooperates replay and conclusions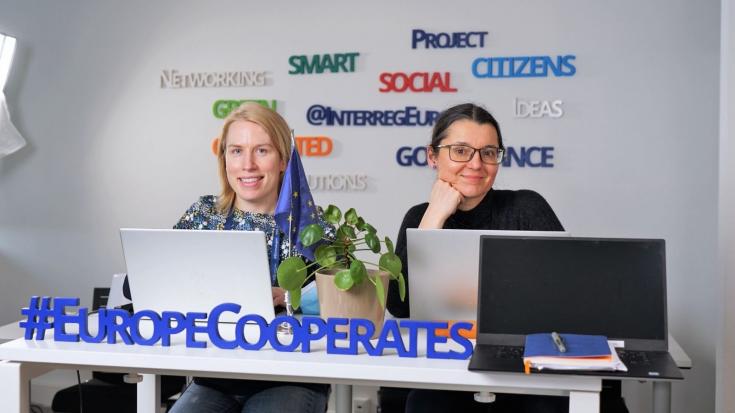 Our first call in 2021-2027 is now open and we hope your project preparations are well on their way. 
We were happy to see so many of you online during 'Europe, let's cooperate!' on 5 April 2022. If you missed the main stage sessions, recordings are available and you can catch up on the content below. 
Remember also to give us feedback about your #europecooperates experience and check out our tips on what to do next to get your project ready before the closing of the call (31 May 2022, noon CEST).
Opening session: Interregional cooperation and EU priorities
Session speakers: 
Miia Itänen, Senior Communication Officer, Interreg Europe (moderator)
Daniel Leca, Vice President of Hauts-de-France region (Managing authority of Interreg Europe)
Elisa Ferreira, European Commissioner for Cohesion and Reforms
Slawomir Tokarski, Director, European Territorial Cooperation, Macro-regions, Interreg and Programme Implementation I (REGIO.D), DG Regio, European Commisssion
Erwin Siweris, Programme Director, Interreg Europe, Joint Secretariat
Marie-Antoinette Maupertuis, President of the Assembly of Corsica & the Second Vice-President of the COTER Commission, the European Committee of the Regions
Michela Magas, Member of the High Level Round Table, New European Bauhaus 
Shortcuts to specific sections: 
Call session: Get your application ready for the first call
Download the presentation introducing the first call
Session speakers: 
Miia Itänen, Senior Communication Officer, Interreg Europe (moderator)
Eilish O'Loughlin, Senior Policy Officer, Interreg Europe (chat moderator)
Petra Polaskova, Senior Communication Officer, Interreg Europe (chat moderator)
Nicolas Singer, Head of Unit – Projects & Platform, Interreg Europe
Petra Geitner, Head of Unit – Finances & Audit, Interreg Europe 
Shortcuts to specific sections: