Project training days for first call projects
26 - 28 Sep 2023
09 : 00 - 17 : 00 CEST
In person | Lille, France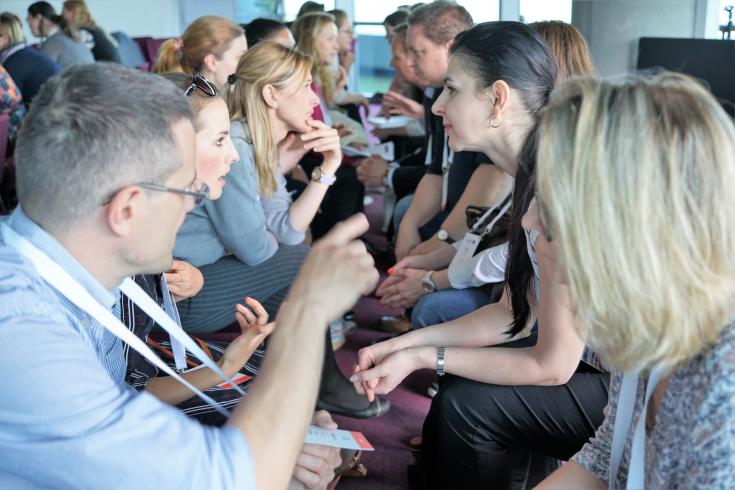 We will organise a series of workshops for our first call projects on 26-28 September 2023.
The Interreg Europe project training days will bring together the lead partners, finance managers and communication managers from 72 projects approved in the first call.
The project training days will take place in Lille, France (Garage, 34 Boulevard Carnot). Each day will focus on a specific aspect of project implementation. 
Registration is closed. 
For more information, head over to the project training days website to see who is coming, what's on the agenda and get practical info to prepare your trip. See you in Lille:
The first day focuses on finance reporting. The training is targeted at lead partners, lead partner finance managers and lead partner's controllers of Interreg Europe projects.
During the training, we will cover information and updates on financial reporting and control procedures and requirements related to the management of Interreg Europe projects. The participants will also have an opportunity to discuss finance-related matters with the joint secretariat, finance managers and controllers of other projects.
The second day is dedicated to activities and results reporting. The training is targeted at lead partners of Interreg Europe projects.
This will be an opportunity to learn more about the programme's expectations related to the reporting of activities, good practices and results. The participants will also get useful tips and advice through practical exercises.
The third day is all about communication. The training is targeted at lead partners and communication managers of Interreg Europe projects.
Project representatives will get guidance on the Interreg Europe publicity requirements, as well as some helpful advice and tips for making project communication activities as effective and attractive as possible.
The participants will work on developing project storytelling and building an engaging online presence through practical exercises and interactive discussions and share their experiences in a world café.
Participation and practical information
Participation is open to:
Lead partners, finance managers and communication managers of Interreg Europe projects from the first call.
Controllers are also welcome to attend especially the first day focusing on finance training.
All workshops take place in person. It will not be possible to participate online. Advance registration is required. Registration is open until Friday 8 September.
Please note that participation is limited to two representatives per project per day. The lead partner should coordinate the project's representation before registering. One controller per project (if/when relevant) can also attend the first (finance) day.
Venue: Garage
Address: 34 Boulevard Carnot, Lille
How to get there
Garage is located within easy reach from city centre in Lille. 
The venue is easily accessible from Lille Europe and Lille Flandres train stations by foot (10 min walk).  
Getting to Lille
By train 
There are two train stations in Lille:
Lille Flandres
Lille Europe
Both stations are located close to the city centre (5 minutes by foot) and have connections with Paris, Brussels and London. From these hubs, connections to other European cities are easily accessible.
Travel time between Paris – Lille: 1 hour
Travel time between Brussels – Lille: 38 minutes
By plane
Four airports are within easy reach from Lille. You can choose to fly to:
Brussels airport and then by train to Lille; 
Brussels south (Charleroi) airport and then by shuttle to Lille;
Paris airport (CDG) and then by train (1h) to Lille; 
Directly to Lille airport. 
From Lille airport, there is a shuttle that leaves you in front of the shopping center Euralille, 5 min. by foot from the venue.
Accommodation
We kindly ask you to make your own arrangements for accommodation. We suggest looking on booking websites.
Below you can find a list of hotels close to the venue:
Hotel IBIS Lille Centre Gares
Hotel IBIS Lille Centre Grand Palais
Hotel Novotel Lille Centre Gares
Hotel Novotel Grand Place
Hotel Mercure Grand Place
Hotel Kyriad Lille Centre
Hotel Premiere Classe