Image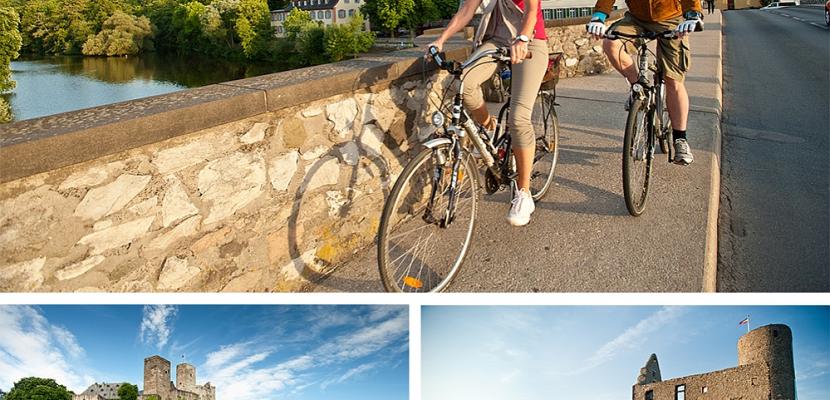 River Lahn Trails (hiking, cycling, water hiking)
Published on 01 July 2020

Germany
Gießen
Spokesperson / Project manager
About this good practice
Since 2002 the official organisation "Lahntal Tourismus Verband e. V." (LTV, Lahn Valley Tourism Association) is responsible for the marketing, infrastructure development, funding and representation of the destination "Lahntal".
The aim is to combine lively and culturally rich towns and single touristic sites in order to make an active, attractive and interesting experience along the river Lahn by bicycle-/walking-/water-trails, combined with information and services (f. e. trains).
A) Lahn Cycling Path is largely car-free and leads along mostly asphalted paths through the flat river landscape (250 km, opened in 1994).
B) Lahn Hiking Path leads in 295 km over mountains and valleys, forests and meadows, towns and villages, from the source to the mouth into River Rhine (opened in 2012).
C) Canoe-River Lahn: Water hiking along River Lahn is possible for 165 km until the Lahn flows into River Rhine (>40 entry-/exit-points and resting places).
The LTV is in charge of the marketing of the destination. The members contribute tourist information and infrastructure development and offer events and guided tours. Important partners are the Geopark Westerwald-Lahn-Taunus, tourist operators and local tourist information.
The main beneficiary is that tourism service providers of any kind and the public authorities are now linked within the touristic destination "Lahntal". Through tourism-related turnover job creation and tax revenue are generated. Sign up to see the expert opinion
Resources needed
- Canoe: funded by 2 federal states within the areas of economy/tourism and village development, in total ~150.000 € 1997-99)
- Walking: 300.000 € for planning, realisation, signposting and start-up marketing, 1/3 person for coordination trail-management (LTV), certification co-financed by LEADER
Evidence of success
- 1.700 accommodation facilities
- 2.7 million overnight stays (2018, 1997: 1.6 million) (2018: 115 Euro/day)
- day guests: 17 million (30 Euro/Tag)
- great income effects (gross turnover due to tourism: 800 milionen)
- direct tourism induced income: 200 million Euro
- employment effects of more than 10,000 people
- constantly increase of visitors
- ingoing certifications: certification Lahn cycling trail (5 times in a row) and Lahn hiking path (3 times in a row)
Potential for learning or transfer
The destination covers three federal states, different municipalities and sub-regions. In the LTV they have to cooperate and work together. Through developing attractions, offers and POIs along the river Lahn some other projects were initiated by public partners or small enterprises.
Mobility is very smart at the river Lahn, the whole valley is accompanied by trains.
The "Lahn Cycle Path" and the "Lahn Hiking Path" are perfectly signposted, well-marked and certified. Information brochures and maps are available.
Conversion took place by reusing the former federal waterway. Now leisure traffic contributes to the preservation of this federal waterway and the infrastructure. Since the mid 1990 river Lahn is the most popular canoe river in Germany
Further information
Website
Good practice owner
Organisation
Lahntal Tourismus Verband e. V. (LTV)

Germany
Gießen
Contact
Spokesperson / Project manager