Image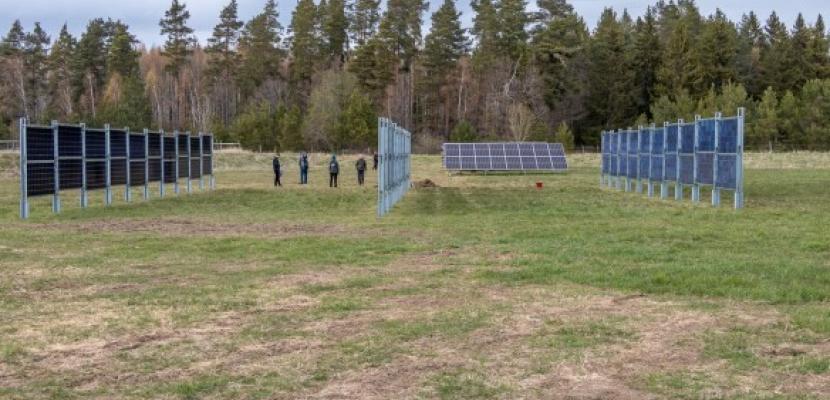 Good Practicen of Kärrbo Prästgård
Published on 29 August 2022

Sweden
Sydsverige
About this good practice
Outside Västerås,Ulf Andersson and his family run Kärrbo Prästgård, which since the early summer of 2021 has Sweden's first Agtivoltaics solar system on its farm. This is the first time in Sweden that a so-called agrivoltaic solar cell system has been installed and evaluated, both in terms of solar production and cultivation.
In addition to this system, a small traditional solar park is also set up to be able to compare the efficiency of the two. Even a reference surface with grass completely without solar panels will be cultivated to measure the differences in vegetation and moisture.
Agrivoltaic systems presents several advantages over traditional ground-based photovoltaic systems: higher electricity yield, crop yield and water savings as compared to common practices. The combination of revenues can lead to high land use efficiency and shorter payback time.
The aim is to investigate how it is possible to combine agriculture with solar farming in Sweden now that electricity demand is expected to increase.
As a result of Covid-19 pandemic, Swedes have started to have more interest in their properties and homes which occurred with more electricity consumption during quarantine. A pattern was discovered among citizens regarding own electricity consumption and the interest in investing in solar energy in industries, farms, private homes and apartments. Consequently, to these reasons Ulf had an interest in investing in agrivoltaics.
Evidence of success
Agrovoltaics on agricultural land would provide more electricity than Sweden's annual needs and even increase the harvest in dry weather, as calculations from Mälardalen University show. Now the researchers can reveal the first promising results: including increased harvest in drier weather. The results show that agricultural land is well located in Sweden and there it will be cheapest to build solar parks, and there will be no problems with shading.
Potential for learning or transfer
Energy Agency of Southeast Sweden has prepared for a webinar on the 20th of April where hospitality industries from the southeast Region presented how they worked with self-consumption during the pandemic and how they due to that were affected. The participants have spoken about their positive experiences in investing in solar panels and about the well to follow this evolution of solar panels. Many participants have shown a big interest in learning more about agrivoltaics and in the well in investing in such an installation in order to combine agriculture and self-consumption.
Due to the covid-19 pandemic followed by higher electricity consumption during quarantine which have hit globally this good example can be spread to different regions in order to engage citizens in different countries to have more interest in their properties and farms to invest in such installations.
It is even proven that high electricity prices during the winter will continue to increase.
Further information
Good practice owner
Organisation
Southeast Sweden Energy Agency

Sweden
Agency - different from business support
Members are interested in