Webinar recording: roll-out of charging infrastructure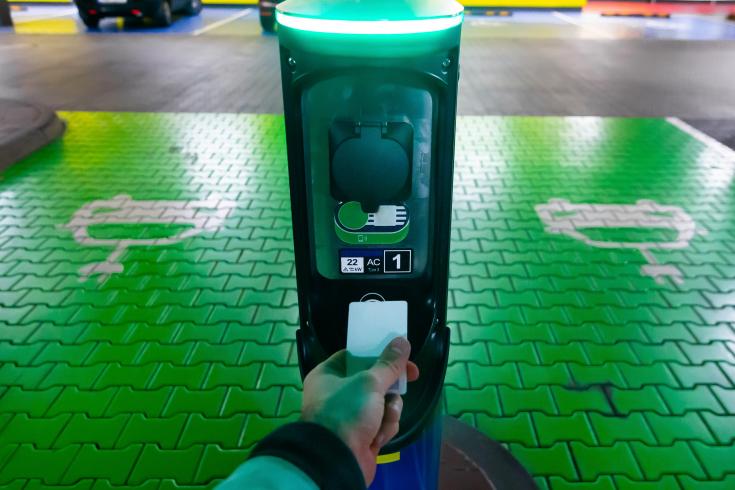 On 7 December, the Policy Learning Platform held the second of its trilogy of e-mobility webinars, on the 'Roll-out of charging infrastructure,' examining bus charging, charging networks for private cars, and charging tariffs.
The uptake of electric vehicles will only become widespread once adequate charging infrastructure becomes available, however, this is often viewed as a 'chicken and egg' problem – which comes first, the users, or the infrastructure? Public authorities need to play an active role in deployment of charge points, but how can they procure the right equipment and select the most beneficial sites for installation?
These topics and challenges have been explored by Interreg Europe projects, and this webinar featured practices and lessons from the EMOBICITY, eBussed and e-MOPOLI projects.
Webinar recording
Agenda overview
Moderation and concept by: Katharina Krell and Simon Hunkin, Thematic Experts of Low-carbon economy. Co-moderated by Nikos Ntaras from CRES (EMOBICITY).
00:03:00 Welcome and introductory presentation by our Thematic Experts, with the latest video from the Policy Learning Platform.
00:08:21 Poll: "Have you ever used an electric charging station for an e-vehicle?"
00:09:16 Keynote speech by Guido Piccoli from ALOT srl in Italy (e-MOPOLI), on"Chicken or egg? Challenges for charging infrastructure roll-out".
00:19:26 Q&A: In your opinion, what would be the best model to further expand fast charging along the highways? Using existing gas stations or through dedicated EV charging hubs?
00:24:05 Presentation by Stephanie Keßler from the Free and Hanseatic City of Hamburg (Germany), on the good practice "Hamburg bus charging assessment and infrastructure" (eBussed).
00:34:49 Q&A: Regarding opportunity charging, since it involves delays of a few minutes for chrging en route, is this in general acceptable by the passengers?
00:38:06 Presentation by Gonçalo Pacheco from the Portuguese Electric Mobility Network, on the good practice "MOBI.E" (EMOBICITY).
00:49:43 Q&A: Would MOBI.E be replicable to other countries that have already an established EV charging infrastructure? Are there any limitations? And what are the necessary resources to establish and operate such a system?
00:53:30 Presentation by Maria Zarkadoula, CRES, on a project achievement: "Report on Charging Tariffs" (EMOBICITY).
01:03:50 Q&A: Considering that there are many different strategies regarding ev charging tariffs in the EU, would it be possible to adapt to one single model across the EU?
Panel discussion
01:07:30 Start of the panel discussion.
01:07:53 Q&A: EV charging puts potentially lots of stress on the electricity grid; what can be done (by regional and local policy makers) to reduce this stress? Are there any incentives, match types of chargers with city characteristics, introduce smartness…?
01:17:24 Q&A: Regardin the energy communities previously mentioned by the speakers, how does it work for the self producing and self consuming individual or community?
01:20:06 Q&A: How can regional and local administrations future-proof the public support to charging infrastructure given the many different models for chargers and the question about inter-operability?
01:27:38 Closing statements and conclusion.
Key learnings
From this webinar, we can highlight some key insights for local and regional policy-makers:
The number of charging points in Europe is growing year-on-year, but significant work remains. E-mobility faces a 'chicken and egg' conundrum – public authorities are often reluctant to invest in charging infrastructure while uptake of electric vehicles is low, but citizens are reluctant to purchase electric vehicles while infrastructure is not available. Public authorities need to take a lead, working with the private sector, to stimulate market development  if we are to meet our climate targets;
There are several actions that public authorities can implement to help boost roll-out, including making use of incentives for purchase of both vehicles and infrastructure, implementing information and awareness campaigns and the use of public-private partnerships to unlock private funds. Greater synergy at European level could help to speed up roll-out, with homogeneous and interoperable infrastructure that would allow drivers to make use of any charger;
Different charging strategies and technologies are available. Hamburg is in the process of electrifying its bus fleet and faced a decision of how to best keep buses charged. The city commissioned a study to investigate overnight depot charging using plug-in charging, and opportunity charging, using superchargers along bus routes. The study examined operational flexibility, price, impact on bus drivers, availability of public space, and public acceptance, amongst other factors. Ultimately, the city decided upon depot charging, with the depot layout being altered to make it e-bus compatible;
The process of using charging infrastructure should be as streamlined and easy as possible for users. MOBI.E is a nationwide network of charging stations in Portugal, with universal access for users, regardless of which e-mobility supplier they hold a contract with. Currently the network has more than 2,200 charging points which anyone can use by making use of a card or app for payment. MOBI.E enables this universality of use while also helping businesses to develop, with equal opportunities regardless of their size. As well as supporting companies, the network also advocates for e-mobility, with communication campaigns and participation in policy development;
The EMOBICITY project has performed a study on charging tariffs in nine countries from across the EU. Without tariffs, drivers will charge whenever is easiest for them, with little consideration of impact on the grid, and most likely at peak demand hours. The report concludes that dedicated charging tariffs are needed across all countries that can shift charging behaviour to off-peak hours, making use of dynamic and smart tariffs. .
Discussions continued on grid impact, (a topic covered in a previous Policy Learning Platform Webinar) and the need of local authorities to plan ahead and be aware of power use patterns. As well as smart tariffs, communication campaigns were recognised as a valuable tools for shifting use from peak hours.
The opportunities created by local energy communities and prosumers were also discussed – firstly, in relation to giving preferential charging tariffs to communities and individuals who feed energy into the grid (which is being explored by MOBI.E), but also that those who self-consume their generated energy will be more interested in using e-vehicles;
Local administrations will need to 'future proof' their support considering the variety of charging technologies. Speakers discussed the importance of public-private partnerships and discussions with industry, bringing policy-makers together with innovators to stay ahead of technological development and ensure best use of public funds;
E-mobility planning is a cross-sectoral issue, and cannot be tackled by the transport department alone, but also requires collaboration with energy planning and spatial planning. Cross-departmental collaboration has been explored in the and webinar on Developing integrated low-carbon strategies. Integration of e-mobility into local and regional planning and grids was also explored in the third of our e-mobility series, 'Integrating e-mobility into territorial planning'.
Support is available from many resources, such as the European Structural and Investment Funds, with an ever-growing focus on combatting climate change and supporting the energy transition;
Regions have much to learn from each other. Public authorities should take advantage of opportunities to learn from other regions which have already begun the transition, through Interreg Europe projects and the Policy Learning Platform which can offer on-demand expert support through peer reviews and matchmakings.