Connecting green spaces in Antwerp
Image
Matchmaking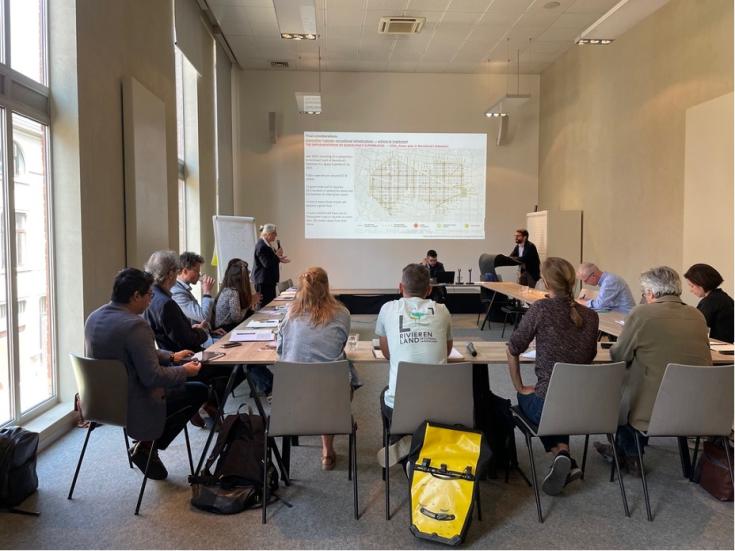 On 1 June 2023, the Policy Learning Platform organised a matchmaking at the request of the Regional Landscape 'De Voorkempen' in Antwerp, to explore new ways of supporting and implementing policies to restore and connect Antwerpian green spaces.
The focus was on interlinking biodiversity hotspots, for example through green corridors or green belts: how to ensure context-appropriate processes and concepts to successfully manage a project connecting green spaces? How can recreational infrastructures be also embedded in the project? How to face the challenge of fragmented green spaces and the residents' inability to access them?
Key takeaways
Explore the key takeaways of the matchmaking session: 
Green infrastructure should be approached as a strategic planning tool. Federico Camerin described an example from Barcelona utilising the so-called green superblocks, which are built up and joined together, making green infrastructure integral in the city's spatial plans. In Norfolk, a local nature recovery strategy employs a combined approach to habitats and recreation, prioritizing and mapping the most valuable areas.
Plans can be updated frequently (once every three months) to ensure continuity.
Thematic planning and strategic documents can be game changing: the aim is to create a regional platform to build trust, develop long term strategies and solutions – while also providing guidance, organising workshops, sharing knowledge, coordinating and consolidating different stakeholders.
There should be a balance between tourism and conservation, which can be aided by interconnecting the concepts of green infrastructure and sustainable mobility.
It is recommended to map out all green infrastructure ("green space inventory") and review local development plans.
Qualitative assessment of impacts and benefits of the interventions can be incorporated, including interviews with residents.
Everyone should have access to green spaces: for example, in Norfolk there are different sizes of green spaces and their average distance to households: doorstep (within 200 m), local (within 400 m).
 
It is possible to choose a wide approach and develop a metropolitan plan, like the Irish Southern Regional Assembly did with Cork, Limerick and Waterford.
Model interventions/pilot projects can demonstrate how impact can be increased and access to green spaces improved.
 
It is key to go from strategic planning to implementation with initial projects (stop planning, start acting), involving frontrunners and continuously bringing interested stakeholders together.
Host and participants 
Hosts:
Wim Debaene, Regional Landscape 'de Voorkempen'
Maud Willemen, Regional Landscape Riverland
Luc Olyslager, Fortengordels & Simon Stevin
Britt Biermans, Province of Antwerp dept Environment and Nature
Peers and shared expertise:
Interreg Europe programme and Policy Learning Platform: 
Request your matchmaking
Are you interested in a matchmaking for your region? Submit your request today!