No planet. No film.
Image
News
Our project, Green Screen, is among the 30 finalists of the 2023 RegioStars, competing for the awards granted to innovative and inspiring EU cohesion policy projects.
Their mission is to inspire the world of cinema by creating sustainable practices. The partnership delivered two exciting pilots: a renewable energy grid for production units in London, and an online tool to help the industry understand and evaluate its environmental impact.
Let's make them the winners of this year's RegioStars.
Now turn off your phones, get the popcorn ready and allow yourself to be transported into the world of sustainable movies.
Once upon a time…
In London, Paris and Malaga, film crews were getting ready to start filming. But because they were so busy, they didn't realise the impact they were having on the planet.
At the same time, sustainability experts were working on one of society's greatest challenge: the climate crisis. But they knew nothing of the film industry. It was as if film and climate action were living on two separate planets.
And so came Green Screen.
Image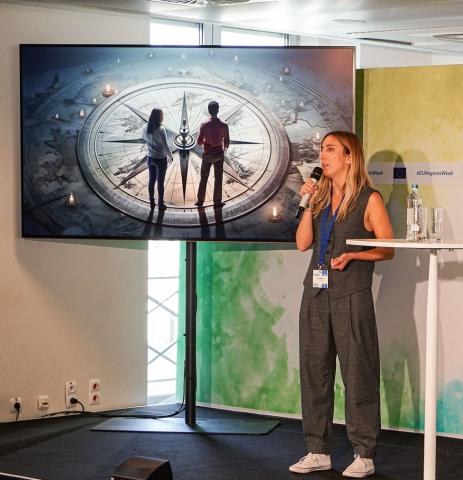 The Green Screen partnership
The eight partners of the Green Screen project knew something needed to change. And they knew it could only be done by working together. So they set out to co-create solutions and develop a community around new green filmmaking practices.
They put together the A-Team; people from film commissions, regional agencies, policymakers, local councils, and stakeholders from across the industry.
They had a plan to work together, developing top-down policies and bottom-up tools to speed up the transition and share what they had learned across Europe.
Image
The plan
Step one: find a single solution to help the industry understand the impact they were having on the environment.
The A-Team and sustainability experts developed Eureca, the European Environmental Calculator. This database consolidates regional, national and European level data in a consistent, reliable and easy-to-use way.
Step two: reduce the use of diesel on film sets to protect, not only the planet, but also its human population.
With the help of the Mayor of London and NBC Universal, Green Screen's A-Team built Europe's first industry-specific electricity cabinet. At this location, generators are now banned and crews can connect to 100% renewable electricity.
Where are our heroes now?
In five years, there has been a radical change.
Before, no one talked about sustainability in film. Today, it is everywhere:
Studios and streamers are setting clear net zero targets
Producers are asking for sustainable solutions
Suppliers are starting to offer those sustainable solutions!
Image
Sustainability is now a key character in this story. From script writing and pre-production, to the materials used and the way people travel.
What does the future hold?
Green Screen also shed light on the need to address the social impacts of the film industry. And more research is needed to understand the impact of our new digital ways of working.
The project may be closed, but its legacy will live on. It will continue to help and inspire those working with films to become greener.
'To be continued'
Facts about the project
A report from 2020 found that just one major studio film creates the same carbon emissions as 375 UK households in a single year.
In 2023, the electricity cabinet built by Green Screen in London was used for over 60 days, saving over 2,800 litres of diesel and 7.6 tonnes of Co2.
In 2023, 45 production companies across Europe tested Eureca, the European Environmental Calculator, saving on average roughly 15-20% on carbon emissions.
How to vote in RegioStars?
Go to the RegioStars competition platform.
Click on 'Vote now' and enter your email address.
Check your inbox. You'll need to validate your email address.
Use the link you'll receive by email to cast your vote.
Select up to three projects, scroll to the bottom of the page and submit your vote.
(our tip: Green Screen in 'a green Europe' category)
That's it! The winners - including the Public Choice Award based on the public vote - will be announced on 16 November in the RegioStars award ceremony in Ostrava (CZ).