Policy Learning Platform meet-up with projects
08 Nov 2023
10 : 00 - 12 : 00 CET
Online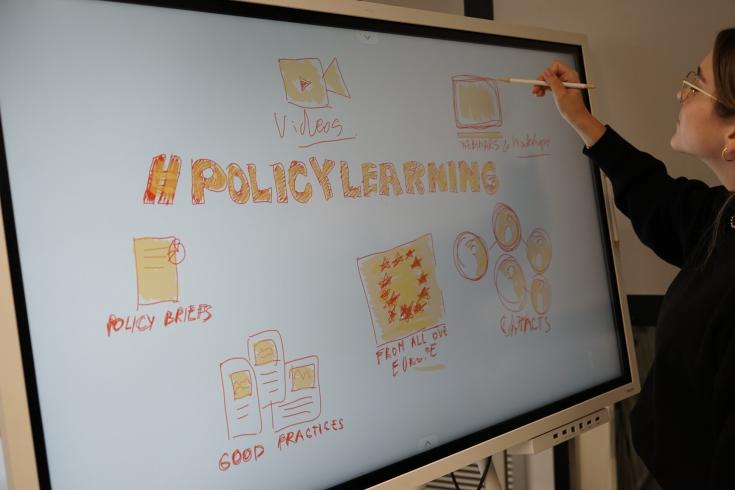 On 8 November (10:00-12:00 CET), we brought together the experts of our Policy Learning Platform team and our projects for an online meet-up. This online event was an opportunity to discover what the Policy Learning Platform is all about, how project partners can benefit from its services, and how to engage with the broader Interreg Europe community by contributing to the Platform's activities. 
This online event was open for all partners of approved Interreg Europe projects.
During two hours, the participants had a chance to to:
discover the services made available by the Policy Learning Platform
hear more about what the Platform offers for projects
find out how to benefit from and contribute to the Platform's activities
meet the Platform's thematic experts
get to know and network with peers from other Interreg Europe projects. 
10:00-10:10    Welcome and opening remarks
10:10-10:20    Interregional cooperation: projects and policy-learning 
10:20-10:30    Policy Learning Platform in a nutshell and what's in it for projects
10:30-10:40    Q&A and discussion
10:40-11:00    Meet our experts – closer look at current topics and upcoming activities with our thematic experts 
11:00-11:30    Discussions and networking in break-out groups
11:30-12:00    Wrap-up, concluding Q&A, conclusions and next steps
The session recording covers the general parts. Group discussions were not recorded.
You can download the presentation and an overview table of first call projects and topics below.    
Networking opportunities
As a participant of the Policy Learning Platform meet-up with projects, you can benefit from networking among our first call projects. 
Explore the thematic groups, join the one(s) matching your topic and interests, and start connecting with project partners involved in Interreg Europe projects.
Slido
We used Slido for questions and interaction during the session. You can access the list of questions and answers below.
If the embedded Slido widget does not appear, you can also access slido via slido.com and use the event code #policylearning.
Registration form
Sign up by completing the registration form below. If you don't see the form, log in to your Interreg Europe account or join our community to get started.