Image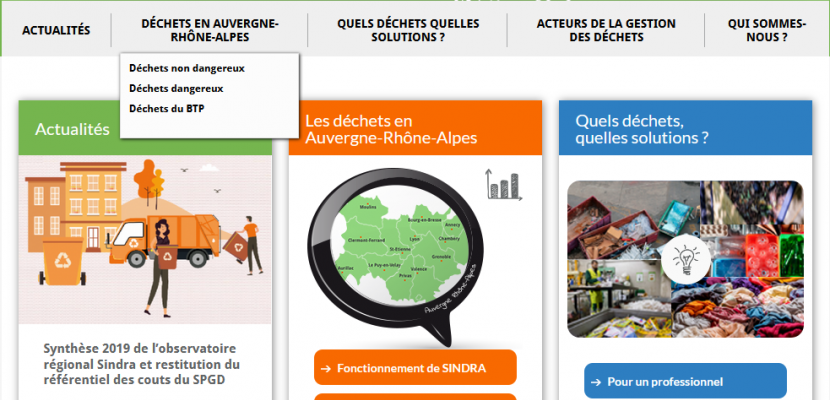 Sindra – Waste observatory of Auvergne-Rhône-Alpes Region
Published on 07 July 2021

France
Project manager
About this good practice
Sindra includes:
- A continuously updated database on domestic waste and waste generated by economic activities.
- Indicators calculated at different scales (municipalities, local public authorities, departments and region) each year.
- A general public section presenting a directory of regional actors (what wastes, what solutions?) and departmental and regional reviews and summaries.
- An extranet part to share data for local public authorities and private companies.
It is a single optimized tool to limit the solicitations of data providers and meet the different expectations of the territories:
- At the local level : summary sheet for local public authorities (monitoring, comparison, annual report, key figures),
- At regional level: monitoring of the regional waste prevention and management plan, evaluation of public policies, support of territorial animation, annual edition of regional results,
- At national level: supply of the ADEME national database, input to the European statistical system.
Each local public authority, company collecting waste or company managing a direct processing facility, provides the information that concerns it by entering directly into the database on the Internet, or by filling in a survey file.
Each local authority can compare itself to the others, take into account nearby equipment, highlight possible complementarities and synergies, pool resources, and generate economies of scale. Sign up to see the expert opinion
Resources needed
Financial support from the ADEME (Environment and Energy Management Agency) and the Regional Council since 2000 (100 000 euros in 2020 from each). This support evolves according to new emerging needs defined by the financers. Many stakeholders also contribute to this policy by providing data.
Evidence of success
Data collected from 370 public authorities and private companies (1000 waste collection centres and waste transfer and recycling facilities). In 2019, 99,4% of public authorities and 92% of private providers answered the survey. It's impossible to assess the direct impact in terms of waste reduction or recycling rate but the observatory provide a global vision of the challenges in terms of waste management. Access to data allows public policies to be targeted at certain problematic waste streams
Potential for learning or transfer
Sindra responds to the need to monitor and evaluate different regional policies, including policies related to recycling and plastic reduction. The observatory brings together all available data on waste by collaborating with many partners (local public authorities, private waste treatment companies, specialised observatories, etc.).
The tool "what waste, what solutions?" may also make it possible to sensitize individuals and professionals to the sorting of waste by providing information adapted to the territory concerned.
This policy is transferable and addresses the common need to monitor changes in the different types of waste produced, collected and recovered in order to assess and adapt regional and local policies related to waste management and prevention. The regional scale is interesting to provide precise data adapted to the regional waste prevention plan. It also feeds the National and EU observatories with essential data.
Further information
Website
Good practice owner
Organisation
Auvergne Rhône Alpes Energy Environment

France