Image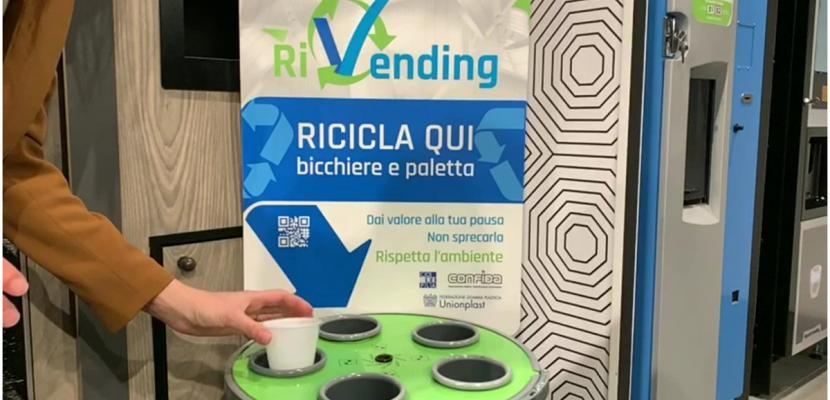 Rivending project: re-use plastic
Published on 29 June 2022

Italy
Lombardia
Specialista tecnico
About this good practice
The project was conceived by CONFIDA, the Italian Vending Association, together with COREPLA (National Consortium for the Collection and Recycling of Plastic packages) and UNIONPLAST (the Italian federation of companies operating in the transformation of plastic). Italy has the largest automatic food distribution channel in Europe: over 800,000 vending machines installed throughout the Country managed by more than 3,000 operators that employ approximately 33,000 people.
Launched in 2019, RiVending project is already present all over Italy with 6,000 bins installed in schools, universities, public offices and companies. Big brands and major Italian Companies have joined the project by installing recycling bins in their companies as well.
The final goal of the project is the so-called "cup2cup" that is the use of recycled plastic to produce new cups and the first recycled plastic cup for vending machines has already been manufactured. The next step is to start laboratory tests that will allow the recycled glass to obtain authorization for food contact in order to market the product.
RiVending project is very easy: consumers of vending machines, after having tasted their coffee, are invited to throw the cup and stirrer into a special recycling bin that isolates the material they are made of from other plastic packaging In this way the selection process and the recovering of an homogeneous plastic of the highest quality are simplified.
Resources needed
Evidence of success
With this project the vending industry gives a concrete response to the European objectives of reducing single-use plastics. Indeed, with the reuse of the same material for the production of new cups the recycling rate increases and the quantity of virgin plastic placed on the market is reduced. To date, with the recycling of first thousands of plastic cups collected, it has been possible to produce 5,000 bowls for animals given to ENPA (Association for Animal Protection) for its kennels.
Potential for learning or transfer
This approach could be a good example also for other European regions as an incentive to recover plastic in all public buildings and private companies.
Further information
Images
Image
Image
Image
Image
Image
Image
Website
Good practice owner
Organisation
Lombardy Region

Italy
Milano
Regional public authority
Members are interested in
Contact
Specialista tecnico