Entrepreneurship support: Incubator success factors
Image
Webinar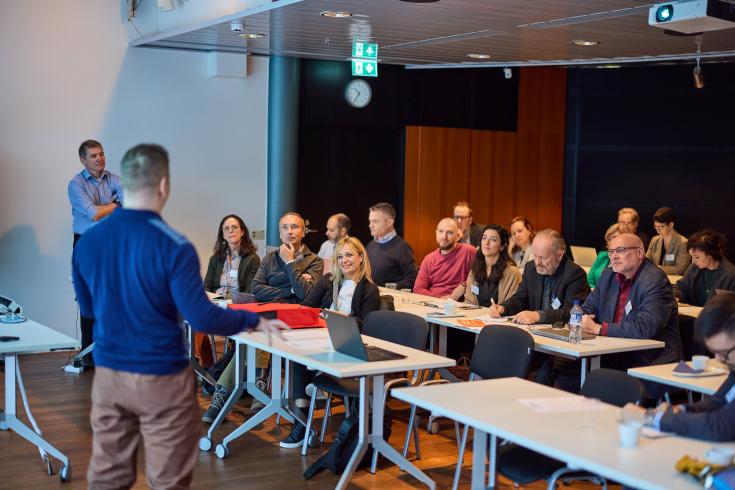 On 12 December 2022, the Policy Learning Platform hosted a webinar on the topic of entrepreneurship support and the factors that make an incubator programme a success. 
During the webinar, several questions were answered in a panel discussion as well as presentations from Interreg Europe good practices: 
What makes an incubator successful?
What methodologies does an incubator need to implement to provide useful support?
What is needed beyond mentoring, workshops, and coworking spaces?
What are the latest trends in incubation? 
Take a look at the webinar recording below and access the presentations and key learnings. 
Webinar agenda
Moderation and concept by Mart Veliste and Luc Schmerber, Thematic Experts on SME competitiveness.
00:01:06 Introduction to the topic by Mart Veliste, Thematic Expert on SME competitiveness 
---
00:08:48 Panel discussion on trends in entrepreneurship support services
00:09:00 Q&A: Introduction round of the speakers 
00:17:04 Q&A: What are the current trends in entrepreneurship support services in general and specifically in incubation services?
00:29:47 Q&A: What makes an incubator programme great?
00:43:05 Q&A: What measures are used to rate the success of an incubator programme?
---
Presentations showcasing incubation programmes
00:46:41  Presentation by Andrii Myrovych, Project Manager at the Lublin Science and Technology Park on INNOVA-INVEST pre-incubation program with equity investment
01:08:19 Q&A: How long is the incubation programme? You mentioned the co-funding by the operational programme, was there a follow-up? 
01:10:30 Q&A: You mentioned you were also investing, how are you dealing with exits? 
01:13:03 Presentation by Gracia Catalina, Director of MINERVA programme on the Programa Minerva
01:27:38 Q&A: What are you doing to build and maintain the alumni community? 
01:28:32 Q&A: You mention the optimum model is hybrid, how do you apply this? 
Find the key learnings of the webinar below:
The pandemic was a wake-up call also for the business support sector. People now feel more morally obliged to support business ideas that have a social impact. Impact-driven entrepreneurs are more and more important as the target group.
The pandemic also influenced startup communities. On the one hand, as everything went virtual, there is now a need to rebuild the community and interpersonal relations. It can be challenging to get people back to your physical space, which is problematic because in-person interaction is just so much more valuable for innovation. On the other hand, some networks have experienced that their sense of belonging to a community has become tighter because the organizations had to endure the pandemic together.
There is also a recent shift in financing. Due to the situation in the markets and general uncertainty it is harder for SMEs to attract financing. Therefore, business support organizations need to push SMEs to better manage their funds (how to deal with their costs) and to make plans for longer runaways when they are fundraising.
Agility is one of the key ingredients in designing a good program. Best incubators adapt to the needs of the target group. Programs need to be agile in their design (continuously adapt the structure and thematic areas between cohorts) as well as implementation (to provide tailored support to each individual SME depending on their needs).
A quality program is one that enables access to a variety of financial resources to ensure a certain level of sustainability.
Incubation programmes should be built around partnerships. For the incubees it is vital that they are enabled to grow their networks during the programme by putting them in contact with a variety of other SMEs, mentors, investors, etc. It is also advised to set up programmes through partnerships. Instead of going at it alone, one should partner up on the local, regional, national, and global levels. This also links to not reinventing the wheel but rather seeing what is already there and what is needed in the local context. A good idea is to align the incubation program with regional S3 strategies and to find suitable business verticals. 
When designing and running a programme one should also think about what happens afterward. Good programmes take care to build a community of alumni. Participants of all programmes should be brought together via an alumni forum or social media group. It is very useful as this enables startups to help each other. And for the programme it enables to have active follow-up and keeping an eye on how the businesses are doing post-programme.  
Exists are not the only criteria for success for equity funding programs created by the public sector. Much more important is being able to generate an entrepreneurial ecosystem and generate interest of the VC community in the region.
Presentations
Download the presentations of this event below.