Designing the low-carbon transition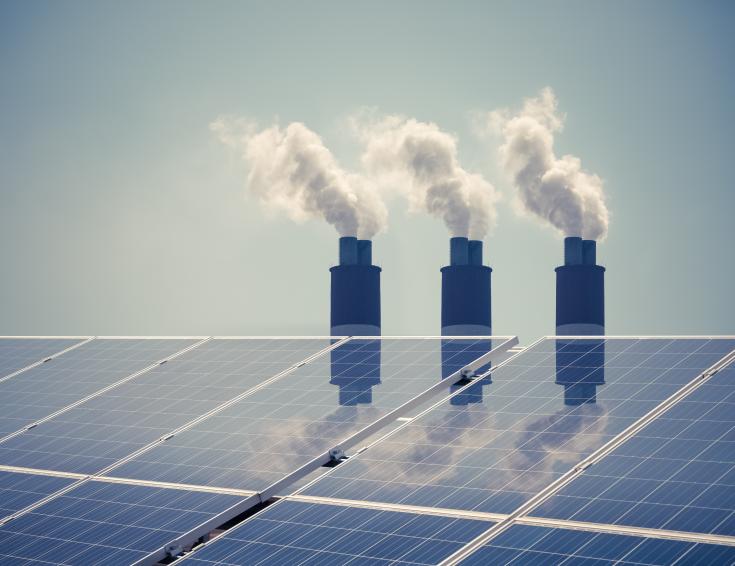 The session 'Designing the low-carbon transition' at Europe Let's Cooperate 2021, attracted more than 380 participants, and examined successes from the Interreg Europe programme and explored interesting topics for collaboration under the future programming period.
This included a focus on three successful results from projects, covering the main focus areas of mobility, renewables and energy efficiency:
A new strategy for boosting electromobility in Extremadura, achieved in the CISMOB project and presented by Rachel Tully, Extremadura Energy Agency (Spain)
Improved guidelines for calls for proposals addressed to energy efficiency in public buildings, achieved in the REBUS project and presented by Luminita Mihailov, South-East Regional Development Agency (Romania)
Innovative financing for renewable energy, achieved in FIRESPOL, and presented by Suada Mustajbegović, Environmental Protection and Energy Efficiency Fund (Croatia)
Katharina Krell and Simon Hunkin, Thematic Experts in low-carbon economy at Interreg Europe Policy Learning Platform, moderated the session. Alongside with them, Charo Camacho and Verena Priem, policy officers on low-carbon economy at Interreg Europe, presented an overview of the key results and achievements regarding Interreg Europe projects in low-carbon economy during the programming period 2014-2020.
Recording
Key Learnings
Extremadura's e-mobility strategy was informed by CISMOB thanks to exchange on the potential of ICT in e-mobility, integrating stakeholders into strategy development and staff exchange with partners in Portugal. The strategy has four main actions; creating charging infrastructure, increasing the number of electric vehicles, developing research & innovation capacities, and co-ordinating stakeholders. Under the strategy, 3.5 Million EUR from structural funds are now available for purchasing electric vehicles and installing charging points.
The South-East Regional Development Agency of Romania participated in REBUS to improve capacity of local authorities to undertake renovation of their public building stock, reduce carbon emissions, and increase awareness amongst policy-makers and citizens. The project developed Energy Renovation Paths for each region, covering planning, implementation, monitoring and capacity buildings. Additionally, the South-East Region had made resources available in its Operational Programme for renovation and used the project to inform a simplification of the administrative, eligibility and technical criteria, resulting in 13 new project proposals, all to better standard then pre-simplification.
In Croatia, despite significant potential, renewable energy generation is not growing as fast as desired, with a need for new financial instruments to mobilise resources. In FIRESPOL, the Environmental Protection and Energy Efficiency Fund co-operated with other partners, learning the importance of considering all stakeholders, blending different sources of finance, promoting the multiple benefits of renewable energy using structural funds, and establishing a single contact point. The FIRESPOL exchange resulted in identification of new financial mechanisms for the Energy Development Strategy of Croatia, the creation of a one-stop-shop for renewables and a new financing scheme for renewables in tourism.
During the period 2014-2020, under the priority "low-carbon economy" (LCE), the programme co-financed 60 projects, involving 463 partners from 29 partner states. Of these projects, 26 covered sustainable transport, 14 energy efficiency, 11 low-carbon strategies and 9 were on renewable energy.
Key thematic areas for projects and the Policy Learning Platform have been:
Mobility: Sustainable urban mobility, e-mobility, active transport, public transport, urban logistics
Energy efficiency: Social housing, financial instruments, sustainable energy in SMEs, one-stop-shops, and behaviour change
Renewable energy: community energy, skills for the energy transition, self-consumption, public acceptance, grid integration, biogas and biowaste
Strategy: Multi-municipal strategies, district transformation, integrating SUMP and SECAP, smart cities, European Recovery and Resilience Facility
The LCE projects have identified more than 900 good practices, developed 230 Action Plans and increased capacity for around 4,500 staff. The projects have so far achieved 143 policy changes, 62% of which are for structural funds programmes, and influenced 430 Million EUR from 62.5 Million invested in projects – a leverage effect of almost 7.
More than 600 good practices are available in the Good practice database, the Policy Learning Platform has produced 22 policy briefs, run 16 webinars and 6 workshops, and organised 6 peer reviews and 7 matchmakings. More than 90% of low-carbon projects have been involved in these activities.
For the future, sustainable mobility and sustainable tourism emerged as the two main topics of interest for participants for possible collaborations, and other areas included tackling energy poverty, supporting micro-mobility, geothermal energy, energy storage, energy communities, traffic calming, mobility-as-a-service (MaaS), hydrogen and the role of digitalization.