Image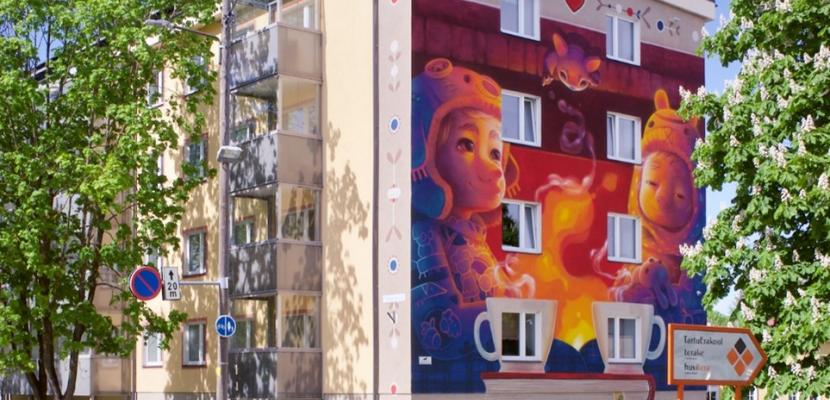 Smart renovation of soviet-era apartment buildings in the city centre
Published on 19 July 2022

Estonia
Eesti
Tartu
Marten Saareoks
Energy expert
About this good practice
According to Smart Zero CO2 City concept developed by SmartEnCity project, the refurbishment of the apartment buildings was combined with smart technologies and with radically increased energy efficiency. Deep retrofitting of 18 residential apartment buildings was taking a step forward from national requirements, improving energy performance to class "A" with increased insulation, photovoltaics production, demand based (by CO2 level) heat recovery ventilation (indoor climate class 2), efficient indoor/outdoor lighting, data monitoring and smart house tools and home automation.
Surroundings innovations included smart street lighting, environmental monitoring, charging points for electric vehicles, energy storage using recycled car batteries, creating a platform for energy data collection and district cooling station that uses river water as coolant and photovoltaics to cover cooling plant electricity needs. Activities also included increased technical support and quality control for renovations, providing trainings, awareness campaigns and street art.
It was the first pilot in Estonia for integrating different technologies like energy renovation, urban transport, district heating/cooling, environmental monitoring and electromobility into one smart-city service. Sign up to see the expert opinion
Resources needed
It was financed by EU Horizon 2020 program, combining the support with other sources, including national grants, private investors and bank loans.
Renovation was coordinated by team of experts from SmartEnCity project supporting the housing associations before, during and after the renovation.
Evidence of success
18 soviet era apartment buildings (reaching the critical time of their life span) were fully renovated, the technical systems were upgraded and the surrounding area was retrofitted according to the principles of Smart Zero CO2 City concept. The energy performance of the buildings was improved by more than 6 energy classes from F and G to A (surpassing the NZEB standard).
Renovated buildings were covered with building-size street art composing the largest out-door art gallery in Baltic cites
Potential for learning or transfer
European housing stock is rather old, has low energy performance and requires renovation. Smart Zero CO2 renovation provides an example for how to combine the energy efficiency measures with new digital services and environmental assessment. Renovation in city of Tartu illustrates the possibilities for ambitious renovation. Going beyond NZEB targets, this demonstration project is a good example of how the energy consumption can be reduced while renovating the most demanding building stock – in this case the soviet-era apartment buildings from late 1960'.
Due its digital nature, smart city services tend to focus on the technology and less on environmental impact. Smart Zero CO2 renovation concept brings back the environmental dimension emphasizing the importance of the emission reduction. This model is aiming for a sweetspot between the digital economy, energy efficiency and public private partnership and is new way for European cites to rebuild their residential areas.
Further information
Good practice owner
Organisation
Tartu City Government

Estonia
Lõuna-Eesti
Local public authority
Contact
Marten Saareoks
Energy expert