Image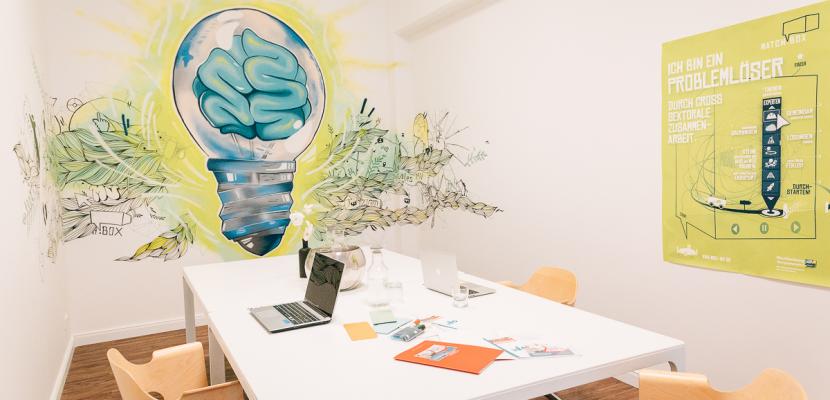 Digital Innovation Room Mecklenburg-Vorpommern
Published on 13 December 2020

Germany
Mecklenburg-Vorpommern
About this good practice
The digital transformation poses new challenges for companies in Mecklenburg-Vorpommern (MV). The state government aims to accompany the economy in MV - in addition to the nationwide broadband expansion - on the way to digitalisation. The state government supports established companies, especially SMEs, to convert from analogue to digital business processes and to develop new business models. Next to the support for traditional companies the state government provides a space for digital start-ups and digital entrepreneurship.
The co-creation space will provide new growth impulses for the economy, creates incentives and offers support instruments that help companies to become/remain competitive throughout the process of digital transformation.
The decentralized, local Digital Innovation Centres provide a co-creation space for founders and start-ups with digital business ideas with areas for joint work (co-working), with creative and workshop spaces and with a "construction kit" of support services, e.g. coaching and advice on business, legal or financial issues. At the same time, the Digital Innovation Centres are providing space for exchange between the start-up scene and established companies and other actors (e.g. from science). Existing companies can thus benefit from the innovative creations and digital know-how of the "newcomers" and the "newcomers" from the entrepreneurial experience and business relations of the "established" - all the way to new, joint business mode Sign up to see the expert opinion
Resources needed
At least 2 employees per Digital Innovation Centre (DIC) are necessary (coordination, financial management). Public funds for the equipment and renovation of buildings provide the advantage of active inclusion of higher public authorities.
Evidence of success
The 6 new Digital Innovation Centres count ca. 3500 participants since their Kick-Off in 2020 – some DIC's are still in construction. The centres are offering open (local and online) meetings titled "Meet Discuss Create" on local key issues, e.g. "The digital craftsman" or "Digital Administration". The Centres offer networking events, e.g. on the topic of digitalisation in tourism. Stakeholders from the local areas are participating actively in the meetings and events.
Potential for learning or transfer
The establishment of the Digital Innovation Centres in Mecklenburg-Vorpommern shows very clearly that early involvement of all interested stakeholders in the process is a major guarantee for success and acceptance. Involving stakeholders and developing a joint umbrella brand, visibility can be significantly increased not only in the regions but also supra-regionally compared to individual projects/actions. This helps enormously to exist alongside the metropolises and to make the region attractive for young professionals and start-ups, but also for established companies. The creation of a lively community that knows each other, likes to meet and develops a "we-feeling" seems to us to be the essential factor for success besides the expertise. A "healthy" competition develops.
This model can be transferred very well to other next-to-metropolitan regions and will help them to develop as an attractive, innovative region.

Further information
Website
Good practice owner
Organisation
Ministry of Energy, Infrastructure and Regional State Development Mecklenburg-Vo