Image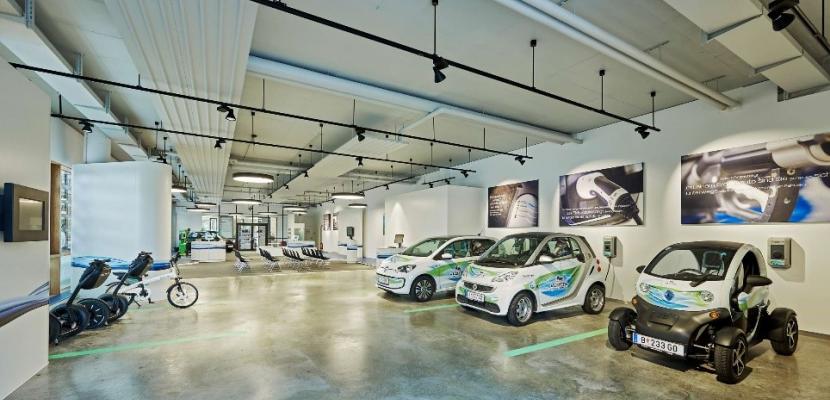 vkw VLOTTE – creating charging solutions and charging infrastructure for e-mobility
Published on 02 March 2022

Austria
Vorarlberg
Silvana Rückert
About this good practice
In 2008/2009, Vorarlberg decided to cover 100% of its energy needs from renewables by 2050 including the whole mobility sector. Therefore, 2008 the partly public funded project VLOTTE started as one of the first measures of the model region for electromobility. One of the key targets was the market preparation for EVs in Vorarlberg and testing of practical suitability of the vehicles used. Another target was the determination of technical issues as energy consumption, noise emissions and influence of social factors like attitudes and experiences of long-term users. Executing project partner were the illwerke vkw AG, the regional energy supplier. They started with 50 E-vehicles, built a photovoltaic system on the 1400 m² roof area of the new carport located at the illwerke vkw and reactivated already existing electric charging stations. Within the first 2 years VLOTTE introduced 357 electric vehicles (EV´s) to customers, public authorities and interested private persons. VLOTTE also installed 139 public charging stations and 3 fast chargers. After this initial "project character", VLOTTE has grown to a separate business branch of illwerke vkw in the last 10 years. In 2021, all activities in relation to e-mobility are concentrated within VLOTTE and the reached key results are impressive: more than 4500 electric cars in total; more than 16% of newly registered cars in 2021 were electric cars; 530 charging points, 76 fast chargers and 10 high power chargers are operated. Sign up to see the expert opinion
Resources needed
- Public funding for first project: 4.7 Mio. € (2008)
- Number of staff to get the good practice running: 2 (2008)
- Number of staff of the whole business branch nowadays: 18 (2022)
Evidence of success
- About 10 years after the start as a project, VLOTTE is now an e-mobility brand developing charging solutions, operating one of the densest charging infrastructures in Europe and shapeing the future of e-mobility.
- More than 10 years of experience in e-mobility, more than 600 VLOTTE charging stations, 100% renewable energies for all public charging stations.
- More than 4500 electric cars in operation, more than 16 % share of newly registered passenger cars are electric (November 2021).
Potential for learning or transfer
VLOTTE is a blueprint for the chances new technologies offer if all relevant stakeholders pull in the same direction. Although VLOTTE started as a public founded project in the field of energy technologies, it did not end after the project duration but a second public founded project followed to get the solutions to the market. With the shared effort of a company (illwerke vkw) wanting to enter the market of electro mobility, policy makers who wanted to be pioneers in solving climate issues and a population that was open to new technologies it was possible to come from a public funded project to an own business branch within illwerke vkw with all it's advantages: regional value creation, sustainable business mode and great confidence of the population in the new technology. Without the shared goal and the willingness of companies, politics and society to work together, such a success would not have been possible.
Further information
Website
Good practice owner
Organisation
illwerke vkw

Austria
Vorarlberg