Image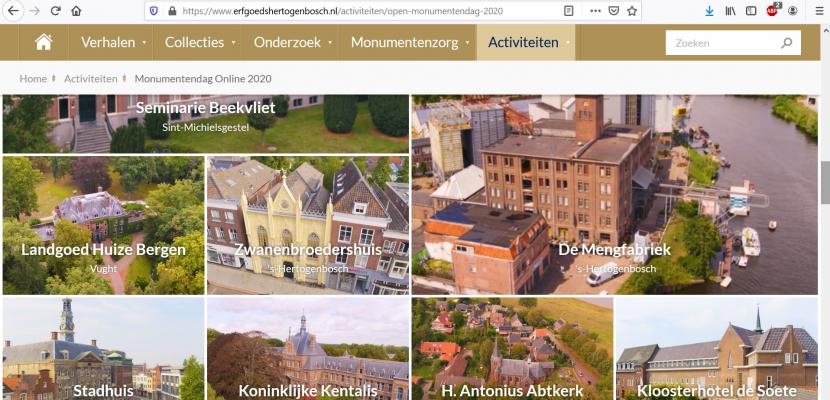 Published on 12 November 2020

Netherlands
Noord-Brabant
About this good practice
Due to the Covid19 pandemic the traditional Open Monuments Day 2020 was cancelled. To offer an alternative, the Online Monuments Day was organised by the municipalities of 's-Hertogenbosch, Sint-Michielsgestel and Vught. In just a few weeks' time a total of twelve monuments was visualised in an innovative, spectacular way, both from the inside and the outside.
For the outside images of the monuments a drone was used. Details are explained by a voice-over.
For the inside images of the monuments, 3D techniques were used. The visitor can create his/her own digital tour, using 360 degrees images.
Owners and users of the buildings give their personal touch to the online tour. They show hidden treasures and share their own favourite elements. Sign up to see the expert opinion
Resources needed
Costs to external parties:
Drone recordings and 3D interior scanning: €15.000,-.
Opening act, publications, pr (advertisements): €1.000,-.
Staff hours municipality: €8.000,-

Total: €24.000,-.
Evidence of success
Visitors of the online tours of the twelve monuments have expressed positive feedback. The personal stories of the owners, the hidden treasures shown, are much appreciated.
An unforeseen success is the participation of disabled people. Never before have they been able to look around these historic buildings themselves.

Potential for learning or transfer
1. Covid19-proof sharing of cultural heritage.
2. Online accessibility of cultural heritage by disabled people.
3. Sharing personal stories of owners.
4. Showing parts of monuments that are too fragile for public exposure.
5. Potential for educational use.
Further information
Website
Good practice owner
Organisation
Municipality of 's-Hertogenbosch

Netherlands
Noord-Brabant