Image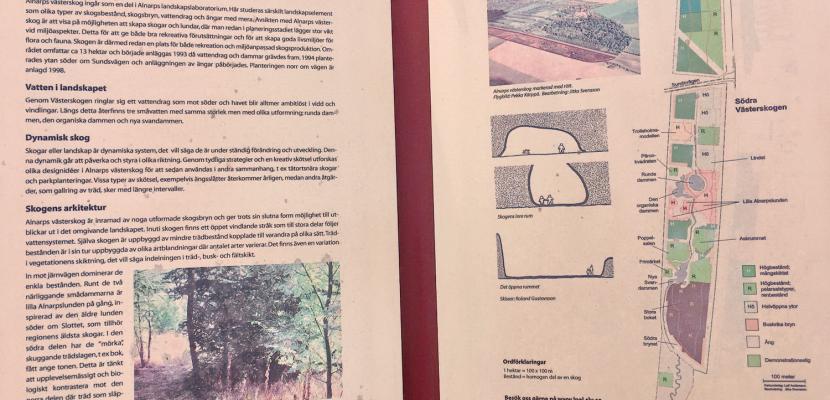 Published on 09 October 2019

Sweden
Sydsverige
Christian Gruessen
Project Coordinator
About this good practice
The landscape laboratory in Alnarp includes 20 hectares of woodland stands, edges, shelterbelts, roadside plantations, meadows, wetlands and water bodies, constructed and planted close to campus from 1982 and onwards. Here, landscape enrichment and dynamic vegetation are studied and demonstrated in full-scale areas as an inspiration for urban forests, agricultural land, parks, gardens and road environments. The main aim is to create an arena that explores and shows examples of multiple-use and enrichment in recreation, ecological values as well as forestry and agricultural production.

One of the areas in the park is the showroom Tor Nitzelius park. It was originally created in 1994 to protect Alnarpsparken's large range of plants against the harsh western winds. The park consists of plots in a variety of shape, form and content. They vary in what stratum is represented in the vegetation as well as the number of species. They also offer the opportunity to get an understanding of how the plots react according to the succession. This way, whole systems with plants from different continents can be studied and it offers an opportunity to compare and acquire inspiration by Northern European, North American and East Asian mixtures of plants.

The laboratory offers both national and international visitors, as well as students, teachers and researchers an outdoor laboratory for long term follow up studies, shorter experiments, workshops, inspiration and outdoor learning.

Resources needed
Operating cost of one staff 50%.
Evidence of success
The latest report showed that the Alnarp Landscape laboratory arranged 101 activities with 3323 visitors between the years 2008-2010. The visitors are both international and national students as well as institutions, administrations, and companies.
Professionals agree that the site is a kind of living tool kit informing and inspiring landscape design across Europe.
Potential for learning or transfer
By focusing the design, construction and management of new and young landscape elements and characters, the landscape lab is rather unique in a Swedish context. It offers an outdoor laboratory for long term follow up studies, shorter experiments, workshops, inspiration and outdoor learning.

During UL2L workshop 2, held in Kristianstad, the partners and stakeholders visited the laboratory to gather further knowledge and inspiration for their own work with green structures in and around the cities.

Further information
Website
Good practice owner
Organisation
Swedish University of Agricultural Sciences

Sweden
Sydsverige
Contact
Christian Gruessen
Project Coordinator