Image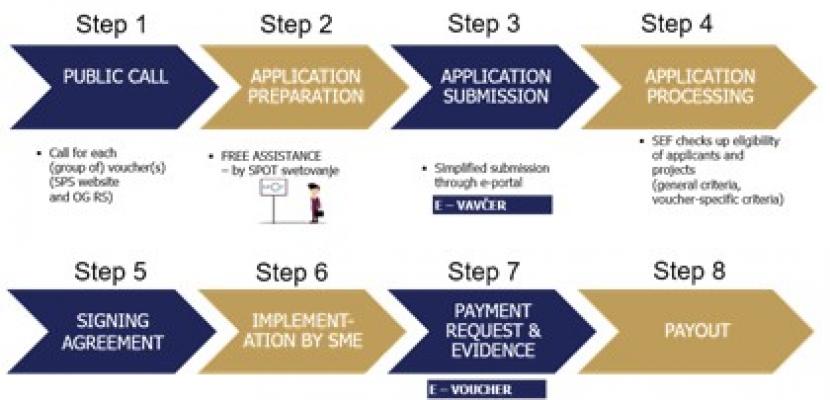 Small-scale incentives for SMEs through vouchers
Published on 29 September 2022

Slovenia
Project manager, communication manager
About this good practice
In Slovenia there was a need of more efficient financial incentives, especially in digital transformation. Previous voucher scheme didn't bring satisfactory results and had long application procedure. Ministry of Economic Development and Technology was in process of preparing the new scheme and they attended the study visit in Ireland to learn from TRINNO GP Trading online voucher. New voucher scheme was prepared and calls were open in January 2019. 14 different vouchers were published on 9 thematic areas. In 2022 the vouchers were funded from REACT EU, since the previous budget was already spent. Vouchers are simple incentives where SMEs can receive up to 9.999,99 EUR of funds for individual services to strengthen their competitiveness and competences. It is fast handled, they are available throughout the year, free support is given on SPOT points, cofinancing is max. 60% of eligible costs and max. 3 vouchers at the same time can be received. There is E-Voucher available to submit the application and send the request for payment with final report. Digitalisation is the most interesing, especially in Covid-19 situation, where are 4 vouchers published: digital strategies, digital competences, digital marketing and cyber security. Within digital marketing a new website, online shop, mobile application and reservation platform is eligable cost. Ministry of Economic Development and Technology set up the Scheme and Slovene Enterprise Fund is implementing the whole procedure. Sign up to see the expert opinion
Resources needed
23,7 mio EUR was available for the new scheme in Slovenia
- 22,5 mio EUR is awarded to vouchers in the period 2019-2023; 4,5 mio EUR is available each year
- 1,2 mio EUR is the cost to run the operation
The Ministry secured new funds in the amount of 13 million from the ERDF from REACT EU.
Evidence of success
The scheme has an excellent impact on national level. SMEs get vouchers quickly and easily. The most demanded is digital marketing voucher, which was very suitable especially in Covid-19 crisis.
Results:
- there are 15 different vouchers calls,
- more then 5 thousand vouchers approved (23,1 mil EUR) and more then 10 thousand applications received,
- 3.479 vouchers already funded (almost 15 mil EUR).
Results are beyond expectations, there are a lot of positive feedback from SMEs
Potential for learning or transfer
The GP has a great impact in Slovenia, targeting MSMEs and it fosters online business activity. The most popular is voucher for digital marketing (online store, ect.). SMEs in Slovenia now receive vouchers quickly and easily. There is no deadline, the evaluation process is quick, also the time to receive funds. When they submit the final request, they receive funds in 1 month if there are no clarifications needed. In May 2022 Irish partner WestBic and stakeholders were on a study visit in Slovenia to learn from Slovenian vouchers scheme that is recognized as good practise during the final year (5th call). Slovenia transferred this GP from Ireland and upgraded it. The structure is now very clearly set from a Business/Client perspective.
The GP is easy to adopt and all documentation is available, including all the templates (online application, the catalogue of experts). Digital Innovation Hub also evaluates external experts and their system is also to be transferred.
Further information
Good practice owner
Organisation
Ministrstvo za gospodarski razvoj in tehnologijo

Slovenia
National public authority
Contact
Project manager, communication manager