Image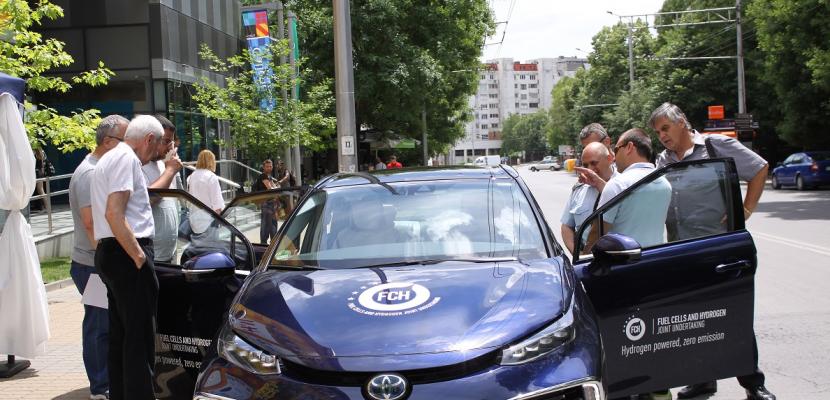 Promoting hydrogen based transportation among the public
Published on 01 February 2019

Bulgaria
Yugoiztochen
Expert in international programes and projects
About this good practice
A TOYOTA MIRAI FUEL CELL car, powered entirely by hydrogen fuel through a hydrogen fuel cell, was presented in Stara Zagora, Bulgaria. The event is part of the hydrogen fuel and hydrogen day, held on the occasion of the tenth anniversary of the European Fuel Cells and Hydrogen Joint Undertaking, a unique European public-private partnership that works for the accelerated penetration of fuel cell technology and hydrogen.
The initiative is implemented by the Bulgarian Academy of Sciences, the Bulgarian Hydrogen Society in partnership with the Stara Zagora Municipality, Regional Academic Center (RAC) Stara Zagora, Holding Zagora and Mall Gallery.

Rumen Radev, Economic Director of Holding Zagora, who has made a decisive contribution to the Stara Zagora event, opened the forum and addressed an inspired message to the youth part of the audience, confident that they will have the chance to participate in the practical application of this technology to the future in Bulgaria and Stara Zagora.

Anyone with a driver's license could sit behind the wheel of the hydrogen car and test it on the straight line of Han Asparuh Street in front of the Gallery, which was specially cut off for the case. Sign up to see the expert opinion
Resources needed
Logistics partnership between all responsible stakeholders involved in the organization of the event and human resources from the main organization responsible.
Evidence of success
Huge interest both from the public sector, the private sector and the number of citizens that tested the car for themselves and explored the techonology. The media attention and the raised awareness on the subject are vital when it comes to the proposal of measures to reduce the level of air polution in regions where coal-powered power plants are of big importance for the good economic situation in the region.
Potential for learning or transfer
Every city that wants can organize similar event to raise awareness and support measures of promoting of sustainable transportation for reducing air polution.
Further information
Website
Good practice owner
Organisation
Chamber of Commerce and Industry - Stara Zagora

Bulgaria
Yugoiztochen
Contact
Expert in international programes and projects