Image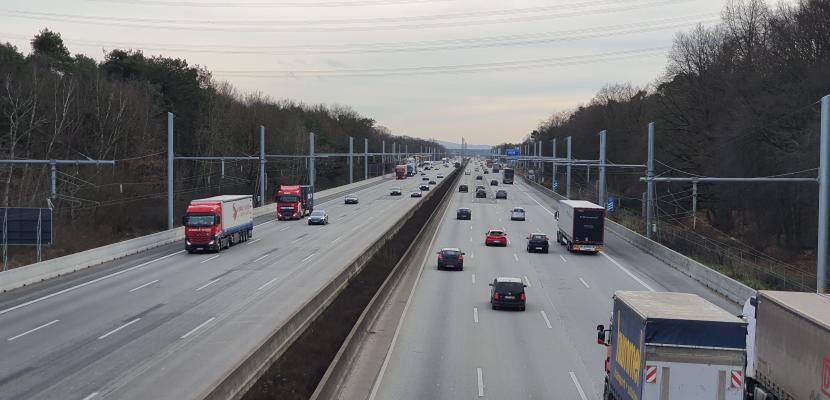 Project ELISA – electrified, innovative heavy traffic on highways
Published on 18 February 2020
Linda Waldeyer
Project management
About this good practice
The state of Hesse is geographically located in the middle of Germany and in the middle of Europe, thus facing high traffic loads and especially transit traffic. Hessen's roads are high-performance traffic routes. With an average daily traffic of 2 million vehicles on highways, Hesse has the highest traffic congestion of all German federal states. The pollutant emissions are enormous and half of Hesse's energy consumption flows into the transport sector.
ELISA shows the way in which the transport sector can make a significant contribution to achieving the national climate protection goals. This is scientifically proven by a comprehensive field test.
In the first part of the ELISA project, the eHighway Hessen was built over a distance of around ten kilometers on the A5 highway. Within two years, the project partners set up an overhead line system that can supply overhead line hybrid trucks with energy. This created the technical prerequisites for the field test.
In the second phase, the eHighway system will be tested on the infrastructure side over a period of four years until the end of 2022. Traffic, energy, technological, ecological and economic aspects that are relevant for such an expansion of the system are researched together with science and logistics partners. The Federal Ministry for the Environment, Nature Conservation and Nuclear Safety provides five trucks for the field test in Hesse. These are used by the logistics partners in their real transport processes. Sign up to see the expert opinion
Resources needed
23,9 Mio. Euro funded by the Federal Ministry for the Environment, Nature Conservation and Nuclear Safety.
Evidence of success
The eHighway Hessen was planned, approved and built within just two years. This demonstrated that this type of electric road can be erected in a short time, even on busy roads. Since May 2019, with the delivery of the first vehicle, the eHighway Hessen has been in operation. Since the beginning of 2020, 24/7 operation started. Although the final results of the evaluation will only be known at the end of the project, the purely electrical operation of trucks is demonstrably working.
Potential for learning or transfer
The ELISA project aims to proactively support the vision of climate-neutral driving as part of logistical value chains while maintaining transport capacity. The aim of the project partners is the realization of an electric traffic system with overhead line infrastructure.

Heavy traffic on the streets increases from year to year. Since solutions to effectively avoid road freight traffic or shift these goods to other modes of transport cannot be foreseen, Europe must find a way to make road freight traffic more climate-friendly. The ELISA project shows a possible and functioning way of how long-distance road transport can be electrified. The national implementation of electric roads already has great potential for reducing CO2 in the transport sector. The really huge breakthrough in this sector is brought about by European cooperation and the vision of an electric truck driving across Europe.

Further information
Website
Good practice owner
Organisation
Hessen Mobil, Westerbachstraße 73-79, 60489 Frankfurt am Main

Germany
Kassel
Contact
Linda Waldeyer
Project management