Image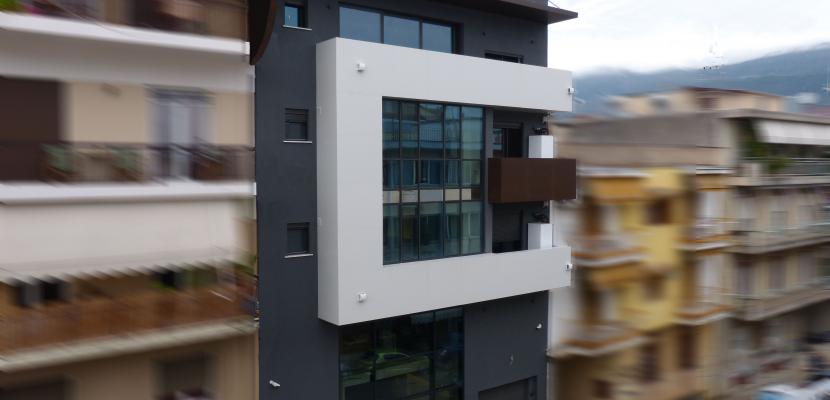 Near Zero Energy Building (NZEB)
Published on 01 May 2020

Greece
Ipeiros
EVANGELOS TSIARAS
Environmentalist
About this good practice
The building is surrounded externally by 10 cm insulation material while 3 cm insulation material is placed inside the walls for further insulation and sound insulation. Insulation has been additionally placed on the entire surface of the building's balconies helping it to achieve zero presence of thermal bridges. The glass panels are triple glazed, with a particularly low heat permeability which is another positive point in the building's overall energy savings. Combi air-water heat pumps with integrated hot water tank have been selected for heating and air-conditioning, which in combination with an underfloor piping system on all floors, provides the premises of the building with adequate and quality heating. The air conditioning of the building, in addition to the floor system, is also aided by local fan coils, and the installation of an air-to-air converter in the ventilation system to heat the incoming fresh air from the ventilation of the building is also energy-efficient. The building is illuminated exclusively with Led energy lamps. Photovoltaic panels of 14 KW installed on the roof of the building. Finally, all of the above electromechanical interventions are centrally controlled at all times through a network of smart automations allowing the user to directly control all parts of the installation giving him the opportunity for further energy savings. Sign up to see the expert opinion
Resources needed
500.000 Euros (€)
Evidence of success
Until today, the building's energy consumption is -98% and CO2 emissions are -97,2%. Owners are fully satisfied with the energy saving, money saving, being ecofriendly and in this way they are selling now their products trying to build new nZeb buildings.
Potential for learning or transfer
1) Passive House building standard will be applied for the first time in the region and for the first time at this scale in the country. 2) Article 10 of the new building code (Law 4067/2012) will be applied for the first time in the city.
Further information
Website
Good practice owner
Organisation
Alesco

Greece
Ipeiros
Contact
EVANGELOS TSIARAS
Environmentalist