Image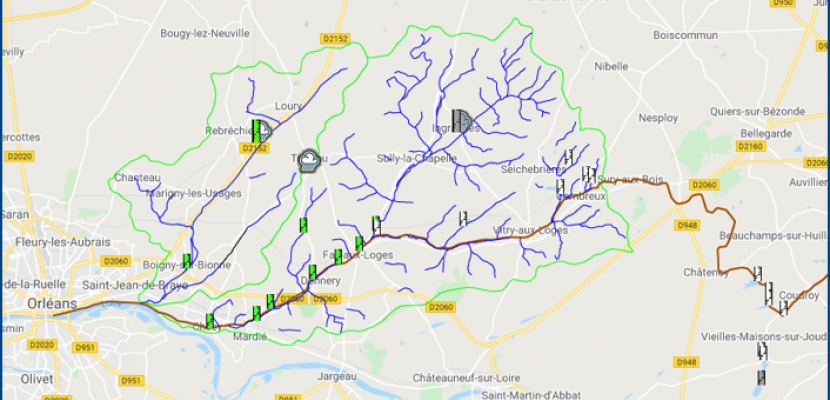 Managing the risk of flooding on the Orleans Canal
Published on 02 March 2022

France
About this good practice
Following severe flooding in 2016, the Loiret Departmental Council wanted to put in place a more effective system to anticipate floods in the Orleans Canal and allow the population to get to safety more quickly. For this, the Departmental Council has set up a model for calculating and monitoring rainfall which calculates the quantity of water that would overflow the canal using meteorological data, historical data and data such as the water saturation of the soils, the water level of the water table and the canal. This system, managed by a water engineer, allows flood risks to be anticipated from 24 to 48 hours. The flood alert is given by municipalities which also have a flood map available, allowing them to know which parts of their municipality are at risk during an alert. Renovation work has also been carried out in some parts of the canal to allow for flood management. Sign up to see the expert opinion
Resources needed
This system was entirely financed by the Loiret Departmental Council for an amount of 300,000 euros. The installation of this system required the work of 2 engineering offices. It is currently operated by a full-time water engineer.
Evidence of success
This system have permit to anticipate different events with 24 or 48h to advance. The flooding alert have been activated 3 time since the implementation of this system.
Potential for learning or transfer
This good practice is easily transferable to all regions with flood management needs mainly on canals. Indeed, its implementation requires few technical facilities (mainly water level measurement devices of the canal), the bulk of the implementation requires design offices for the creation and implementation of the calculation model and for the database monitoring which is important for this good practice. What could block the transfer of this good practice is mainly the lack of data for the use of the model.
Further information
Website
Good practice owner
Organisation
Conseil Département du Loiret

France