Image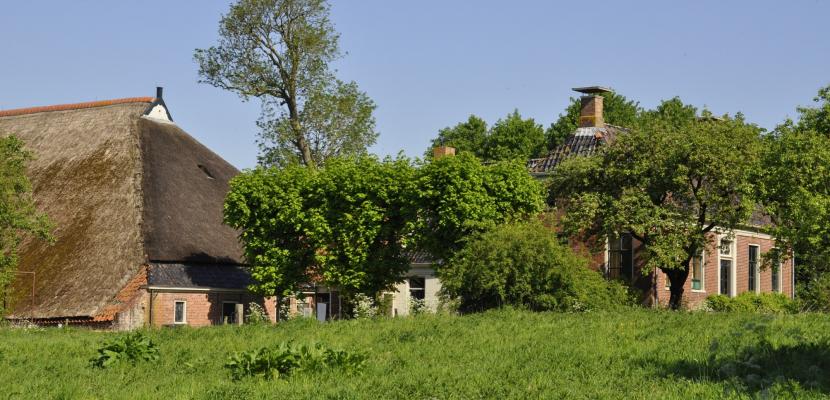 Layered infrastructure of cooperation in landscape and heritage development plan 'Maarhuizen'
Published on 04 December 2020

Netherlands
Groningen
Specialist Rural Development
About this good practice
The expansion of scale in the agricultural sector has a huge impact on historic landscapes and build heritage losing their former function. Maarhuizen is a small dwelling with some farmhouses and a historic graveyard on a man-made hill, typical for the cultural landscape of the north part of Groningen in The Netherlands. It's unique geomophological and historic agricultural structures are still visible in the landscape. The archaeological value is very high. The former 16th century farmhouse 'Enne Jans Heerd', a national monument To safeguard this complete cultural ensemble various parties (Foundation Staatsbosbeheer - the owner, two private managers, architects: Onix and LAOS) work together with the support of several other organisations and different forms of funding. In order to maintain the building and the surrounding cultural landscape for the future, a combination is made between redevelopment from agricultural to a cultural, ecological and tourist objective. Making the building more sustainable, with innovative restoration options and all this while preserving, restoring and further development of heritage and the surrounding cultural landscape. Co-creation is the key: In the province of Groningen we have an extensive network of people and organisations who are committed to the restoration, conservation and development of heritage and landscape: private individuals and entrepeneurs, regional and local government, heritage foundations and affilliated agencies. Sign up to see the expert opinion
Resources needed
The project costs are estimated 4 million euro. Funding by: subsidy's, private funding and crowdfunding. Also in this, besides the shared knowledge, expertise and efforts, the layered infrastructure of cooperation shows its value. Aim is to make cultural centre economic profitable.
Evidence of success
A project plan for transformation of the complete cultural landscape of Maarhuizen has been established. Preparations for the renovation of the farmhouse into a multifunctional cultural center with sustainable and innovative solutions has started. with requesting permits and funding. Archeological, ecological research has been done. Many forms of funding are requested. Many affiliated agencies are interested in cooperating in this project: Universities, farmers and leisure companies.
Potential for learning or transfer
Lessons we would like to share is:
- Placemaking: from the beginning we started with this project we invited people to come to Maarhuizen. We started with activities already. We shared our ideas and asked people to share their ideas. This resulted in a great deal of involvement among a wide range of parties.
- Building and landscape integrated: in the plans we developed we always connected the farmhouse Enne Jans Heerd with the surrounding landscape. These two elements strengthen each other.
- Coalition: a big coalition of parties is involved in this project which is a key-factor for success

What we would like to learn more is how we could share the history of the landscape in an interesting way, if there are any good examples we could learn from.
We have no experience with European subsidy's. We are interested if there are any European subsidy's that are relevant for this project.

Further information
Website
Good practice owner
Organisation
National public body for nature and natural heritage (Staatsbosbeheer)

Netherlands
Groningen
Contact
Specialist Rural Development