Image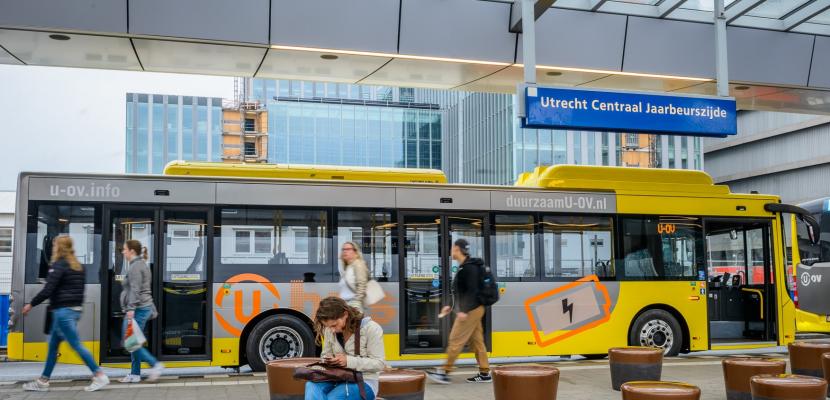 Just e-bus: busline 1 in Utrecht
Published on 12 December 2021

Netherlands
Utrecht
Jeroen Golstein
Province of Utrecht
About this good practice
In 2015 the new Provincial Government set the ambitious goal for a complete zero-emission bus fleet in 2028, but without any strategy or additional funding. At that moment only 3 e-midibuses of a total of 525 buses were in operation. The problem addressed was how to scale up to make this ambition realistic in such a way that the far-reaching expectations, the budgets/funding and the technological ZE-developments were in balance. This was worked out in a ZE-bus strategy: in 2016 the Provincial Government adopted the Action Plan Introducing ZE-Buses. Main strategy of this Action Plan was to first introduce small projects to learn from and scale up, when possible, to the final aim of a complete zero emission bus fleet.
At the same time there was a need for more buses due to an increase in numbers of passengers in Utrecht city. Although the introduction became a success, it had also faced a lot of implementational and operational difficulties in reliability and availability of the buses. But this e-start was essential in learning for further steps forward and part of the strategy described in 2016. The next step followed in 2019: the decision was made by the Provincial Government and the private Transport Company Qbuzz to buy 55 new e-buses (12 and 18 meter) and new charging infrastructure. Due to the experiences gained with all stakeholders in the previous project, now more travellers and the Utrecht Region benefit from cleaner, comfortable and silent e-buses in operation. Sign up to see the expert opinion
Resources needed
In total €9 million additions costs (operational and investments) for the start with 76 e-busses in the period 2017-2021 in the regular PT-operations. At the side of the Provincial government 1 additional employee (external consultant) was added to the Public Authority-staff.
Evidence of success
The Province of Utrecht is ready for the next step for more ZE-buses in the 2025 tendering.
Commitment to stakeholders on ZE-buses raised addition funding of € 9 mio for the e-bus projects so far.
76 e-buses in operation (15% of the total fleet) in the Utrecht Region
As part of the strategy new e-buses came in operations in larger numbers, also in 18m-versions and with lower costs.
High reliability and availability-rates by the newest e-buses

Potential for learning or transfer
-Make a strategic action plan for the steps you can make to meet your goals.
-Involve stakeholders and seek political commitment to this plan
-just start with small e-bus operation steps.
-introduce and work with the plan-do-check-act-principle, also with all stakeholders
-monitoring and manage on the key performance: ZE-availability & km-production and reliability
-accept failures and difficulties at the beginning, see it as learning events
-take enough time for implementations (especially the charging infrastructure, all testing and learning of the complete system)

Further information
Website
Good practice owner
Organisation
Province of Utrecht

Netherlands
Utrecht
Contact
Jeroen Golstein
Province of Utrecht