Image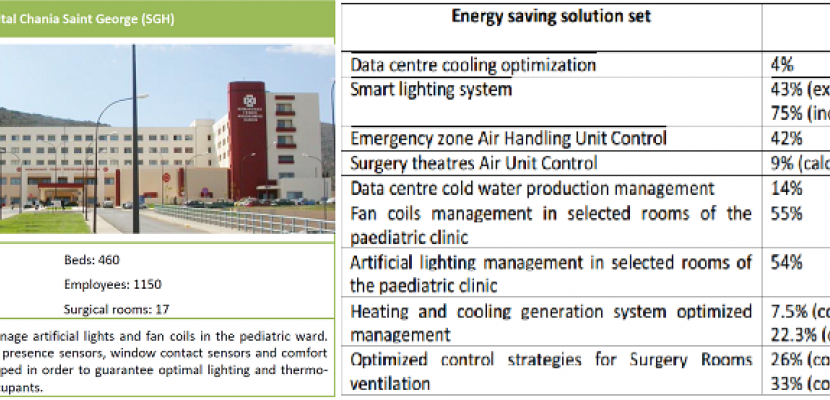 Published on 21 March 2019
Maria Apostolaki
Environmental Engineer
About this good practice
[email protected]
project aims at integrating the latest ICT solutions in order to obtain a significant energy saving in existing hospital buildings and other public buildings, through a better management of energy resources and losses reduction.
Within the project a Web-based Energy Management and Control Systems – Web-EMCS– has been developed. It integrates, monitors and controls multiple buildings systems at the component level. Moreover models to assess the energy savings have been developed and algorithms for consumption optimisation implemented.
Four different hospitals have been selected across Europe to take part in the pilot in order to demonstrate the validity of the proposed solution under real operating conditions. Each hospital will make available specific areas selected considering the presence of: 1) renewable energy sources, 2) already available building management systems that can be easily integrated in the Web-EMCS, 3) refurbishing plans aiming at energy efficiency improvement
The work has been carried on in the three years of the project is structured to reach six main scientific objectives listed below:
• To develop a standard benchmarking model for energy measurement in hospital environment
• To develop and integrate a Web-EMCS
• To develop holistic control algorithms for energy consumption optimization
• To implement and validate the proposed solution (Pilots)
• To implement a maintenance service
• To disseminate the project results and educate Sign up to see the expert opinion
Resources needed
Stakeholders are Chania Saint George Hospital, DALKIA Catalunya, DEERNS, Fundacio Sanitaria de Mollet, IF Technology, IREC, Loccioni-AEA, Ospedali Riuniti di Ancona, Servicio Andaluz de Salud, Schneider Electric, TUC.
Financial resources: EU funding 1,434,978 €

Evidence of success
Pilot savings – MEASURED DATA
Electricity: 6,436 kWh/year
Oil: 584 litre/year
Tot primary energy saving: 26,321 kWhpe/year
Total primary energy saving: 55%
CO2 saving: 8,152 kg/year
Overall hospital potential savings – EXTRAPOLATED DATA
Tot primary energy saving: 1,040,624 kWhpe/year
Total primary energy saving: 56%
CO2 saving: 392,044 kg/year

Potential for learning or transfer
After the implementation phase, some problems related to the communication of the hospital's infrastructure with the centralized
[email protected]
server had to solve. Another complication that was introduced and solved with the proper maintenance of the
[email protected]
equipment was a delay in the "switch on" of the artificial lights that has been identified due to slow communication speed of the existing BEMS with the Web-EMCS. Thanks to reporting of the clinic's personnel and the maintenance team work, the problem was solved and the energy savings significantly increased during the latest months of the monitoring period. For the
[email protected]
solution set the Web-EMCS platform assists in the scheduling of maintenance plans for the installed equipment. The real-time monitoring provided by the Web-EMCS platform assists in identifying potential problems in the sensors (communication or validation) which can potentially affect the comfort level of users and the energy saving targets.
Further information
Website
Good practice owner
Organisation
Technical University of Crete

Greece
Κρήτη
Contact
Maria Apostolaki
Environmental Engineer