Image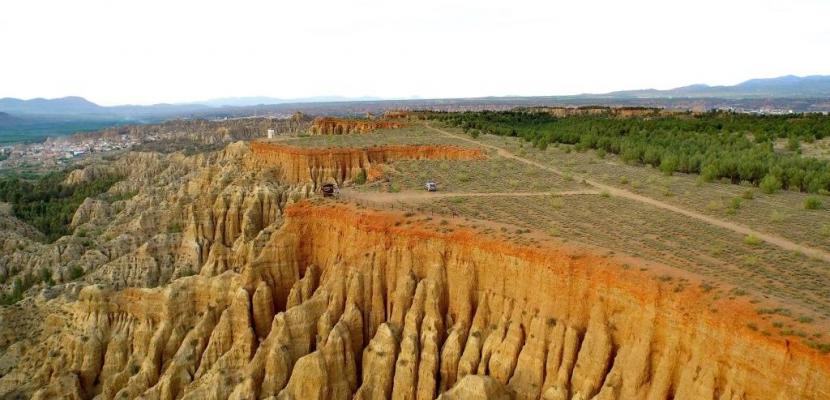 Granada Geopark, contributing to sustainable tourism development
Published on 04 September 2018

Spain
Andalucía
About this good practice
Granada Geopark is an initiative based on a relevant geological heritage and other natural and cultural resources located in the north area of Granada where the depopulation is a deep problem. It is an important tool for local population since it allows them to discover its potential, new professional opportunities and the pride of belonging to a territory where history has left its mark. It focuses on a bottom up development strategy implemented by Local Action Groups guaranteeing an active participation of all the social and economic sectors and the involvement of the Public Institutions as well.
The strategy is based on three pillars:
• Education: Actions aimed at scholars and university students and educational programme focused on geological values, biodiversity and natural heritage for school teachers. It also organises complementary and promotional activities, highlighting those concerning the different forms of housing (cave-houses), landscape and natural photography courses and technical seminars on geological heritage and geotourism.
• Research and divulgation: Organising guided visits to interpretation centres and small museums. Involvement of the scientific community.
• Sustainable Tourism: Valorisation of local products, traditions, natural and cultural touristic resources, creation of new business opportunities. The territory contains small museums and interpretation centres that carry out research, conservation, dissemination and teaching. Sign up to see the expert opinion
Resources needed
Human resources: 18 entities involved, 2 technical full time from the County Council of Granada. Technical from the Local Action Groups and scientific entities.
Financial resources: 135.000€/per year from the Cuonty Council of Granada.
Grants: 350.000€ smart signaling project; 166.000€ from LAG.

Evidence of success
New entrepreneur initiatives have appeared. Population have discovered the importance of its territory. Local action groups have achieved that all the associations work together, municipalities cooperate with the same goal. It has created a divulgation centres network. Activities linked to the geological heritage have more interest for tourists and visitors of the territory:
www.facebook.com/geoparquegold/ (new offers)
www.azimuthspain.es (new offers)
www.onturi.com (new entrepreneur)

Potential for learning or transfer
This practice is potentially interesting for all the territories needed of a strategy of the development. A Geopark is not possible to have in everywhere but its strategy of development is possible to transfer to all the territories. This strategy tries to work integrating all the sectors, making people the main character of its territory future. It is a participatory bottom up strategy. It is also important that public administration involves in it to obtain its support through grants and its understanding on the protection of local heritage.
It generates pride of its heritage and culture among local population; it is the main element to build a "product" for the long term in every territory.

Further information
Website
Good practice owner
Organisation
County Council of Granada

Spain
Andalucía