Image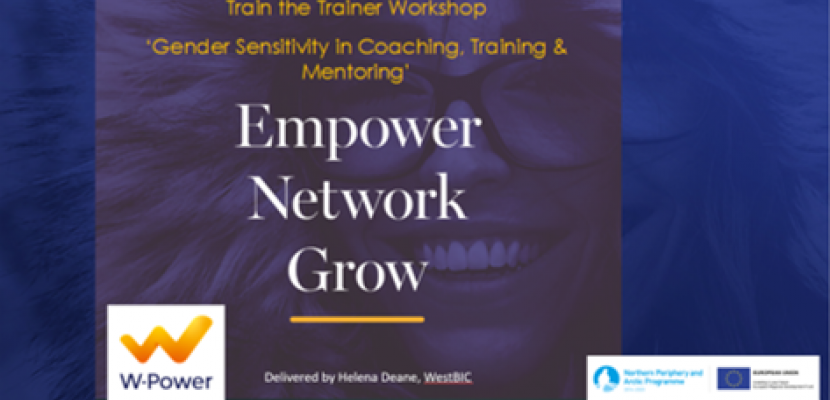 Gender Sensitivity in Business Support Delivery
Published on 25 March 2021

Ireland
Helena Deane
Project Executive
About this good practice
Gender sensitivity encompasses the ability to acknowledge and highlight existing gender differences, issues and inequalities and incorporate these into strategies and actions (EC).

The aim of the W-Power Interreg NPA project was to create and pilot a gender-sensitive concept for business advisors to serve better existing and potential women entrepreneurs as one of the solutions to lower the threshold for (rural) women to consider entrepreneurship as an option. Gender-sensitive coaching model and tools created during the project are being shared as a good practice.

The objectives of the practice are to:
Help business advisers to understand the "gender & entrepreneurship" issue and make them more sensitive towards the gender dimension of/in entrepreneurship.
Help business advisers include the gender dimension throughout a business support service.
Indicate how to design a more gender sensitive business support.
Help to eliminate gender bias in business supports.

The approach has been to design tools and practices that are:
Suitable for Localisation.
Pragmatic, practitioner-orientated.
Concepts presented in 'bite-size' building blocks.
Simple, easy to use tools.

Target audience for the dissemination of this practice include: Business Advisors & Business Support Organisations, Coaching professionals, mentors, trainers - as well as existing and potential women entrepreneurs. The practice was aimed at rural areas but is universally transferable. Sign up to see the expert opinion
Resources needed
Dedicated person in organisation required to dedicate 10-15% monthly to implement the practice in Year 1, which includes setting-up processes, implementation, monitoring/repeat activities. Costs reduce by 40% in Y2. Average cost ca €10000-15000 in Y1, incl. published materials, surveys and events.
Evidence of success
Practice transferred and implemented by 7 organisations in 7 regions and disseminated to 100+ individuals.
Outcomes:
Capacity building of business advisers, coaches, mentors, trainers & female entrepreneurs (immediate outcome).
Access to gender-sensitive and diversity observing business advisory services (medium term outcome).
Increase in uptake of entrepreneurship by women in rural areas (long term outcome).
Potential for learning or transfer
The practice was transferred to the following project partners/organisations and piloted in the following regions:
Karelia University of Applied Sciences Ltd (Finland)
Highlands and Islands Enterprise (Scotland)
Strukturum (Sweden)
Innovation Center Iceland (Iceland)
Joensuu Regional Development Company JOSEK Ltd (Finland)
Lapland University of Applied Sciences (Finland).
The partners were all trained in implementing the practice and also in the implementation of the corresponding pilots. Tools have been made available to improve gender sensitivity in business supports, together with monitoring tools. A template for piloting of the practice is also available. Partners transferred the practices locally/regionally. Training ('train the trainer') video is also available.
Further information
Website
Good practice owner
Organisation
WestBIC

Ireland
Contact
Helena Deane
Project Executive