Image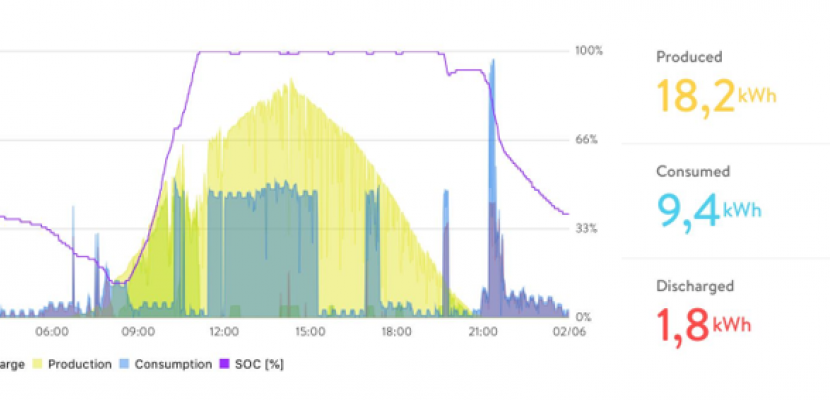 Flexibility in an energy neighbourhood
Published on 25 March 2019

Netherlands
Noord-Holland
Project Manager
About this good practice
The concept of flexibility in an energy community as the capacity to adapt consumption to the available energy, with the use of local renewable sources as the main goal. Moreover, from distribution grid point of view, this flexible consumption is the opportunity to balance grid power flows avoiding congestions in peak demand hours.

Household flexibility
Household final demand will be more electrified year by year, and with this, thermal sources, electrical boilers or aircons will be more used. In domestic PV installations where there's no electrical storage or it's limited, these devices can be activated during surplus hours and provide final thermal energy when needed thanks to their thermal storage capacity.
In the figure above, we can see the potential of demand response use of energy since there's still almost 9 kWh injected to the grid that could be used with other appliances. As more different loads available, more optimized will be the use of own solar energy.

Community flexibility
In a neighbourhood level, flexibility could be the aggregation of different household demand response systems. The EVs distributed batteries have a high potential to bring flexibility to electric system in combination with V2G technology. The result is a more balanced community power flow, with the double of self-consumed energy and the corresponding CO2 emissions savings.
> Potential of a possible smart-charging strategy in energy communities from the distribution grid side Sign up to see the expert opinion
Resources needed
East Harbour Prosumer Community was raised under the scope of EU Project PARENT. These prosumers count with a monitoring installation for consumption and production & now this prosumers data is used in B-DER project to study the benefits that could bring a local energy market within the community.
Evidence of success
- Have a general overview of community energy balances: only a 4% of community energy is self-consumed while a 36% is exported to the grid (daily household consumption has to be adapted to production)
- Detect outliers in consumption patterns to implement energy efficiency measures
- Visualize & quantify the benefits of adding flexibility, energetically and economically
- Quantify the economic impact of EV users to participate in a community market charging their vehicles during surplus hours
Potential for learning or transfer
- Developing a demand response system to control thermal storage devices could help to maximize prosumers self-consumption. A modular system could be used in order to control as more as possible household devices.
- When studying the impact of EVs in distribution grid, we have seen that in charging peak hours the community consumption profile is very different from traditional profile, so as grids have not been designed for this new load pattern in next years could appear grid congestion problems in some specific points. Implementation of EVs smart-charging could balance the grid moving EVs demand over the day as well as increase renewables consumption ratio.
- A community market is the opportunity to give economical advantage to local consumption and production over external grid energy, reduce system dependence and incentivize users to take part in the community. Through these decentralized energy communities, we could do next steps forward to energy transition.
Further information
Website
Good practice owner
Organisation
Resourcefully

Netherlands
Noord-Holland