Image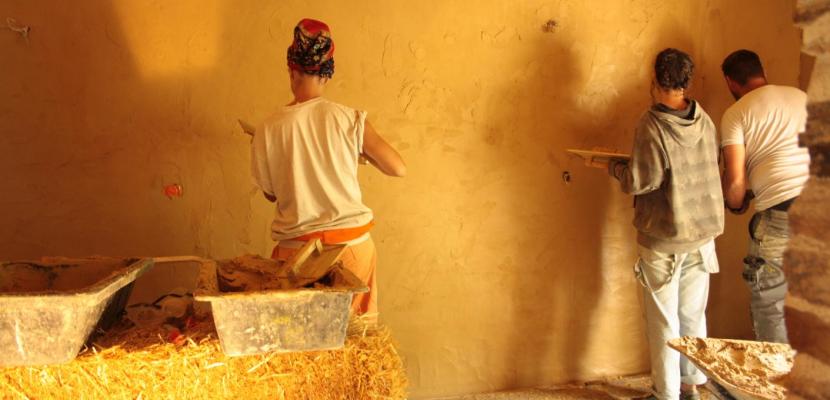 Enerterre – fight against energy poverty through participatory integration workshops
Published on 07 September 2018

France
Codirector
About this good practice
Many inhabitants in situation of energy poverty can't access to the conventional assistance in the retrofit field. That is why Enerterre association offers them a support to find a solution of accompanied, shared and self-rehabilitation for their dwelling.
This system was implemented through participative worksites aiming at renovating houses involving beneficiaries (i.e. owners of houses to be renovated) and volunteers driven by the desire to learn. Enerterre introduced a Local Exchange Trade System (LETS) for beneficiaries of its scheme in its economic model.
A building professional guides participants during the participative worksite to ensure the quality of the rehabilitation. The professional raises skills of the participants as he/she transmits them knowledge and professional gestures, leading to a better understanding and appropriation of their dwelling. Natural and local materials such as earth, straw and lime are used on rehabilitation works.
Enerterre scheme creates, thanks to those participative worksites, social link and cohesion among inhabitants of the area. The association aims to become autonomous and self-supported through the promotion of local skills and the creation of a new value chain on earth material supply for rehabilitation works.
The main stakeholders are:
o Enerterre association and a support local public authority (here a Regional Natural Park)
o Households energetically poor (with limited income)
o Volunteers on worksites (no prequisite Sign up to see the expert opinion
Resources needed
Cost: 200 000€ (from 2011 to 2015)
Animation of the system: 3 500€/Worksite
326 persons have done about 12,500 EMO from 2012 to 2017 (EMO is the unit of measurement of Enerterre Local Exchange Trade System. 1 EMO is equal to 1 hour spent)

Evidence of success
From 2012 to 2017: 126 families have been met and 60 worksites have been done.
Around 326 persons (adding up beneficiaries and volunteers) participated to the 60 worksites for a total of 12,500 EMO.
An economic analysis compared the cost of Enerterre building sites with similar work carried out in a conventional manner (hiring professionals only). From 2012 to 2017, the theoretical cost amounted to more than €300,000, whereas solidarity inputs of volunteers was appraised at more than €150,000.
Potential for learning or transfer
The mix between the participatory approach, the alternative finance (LETS) and the use of ecological solutions for energy efficiency in housing is a very innovative model that should provide inspiration to many local communities.
Enerterre is currently the topic of an Erasmus+ project aiming at Enerterre's system dissemination across Europe through flexible spin-offs of Enerterre scheme. The adaptation of the model is being tested in Greece by the Mediterranean Center of Environment, Spain by Taph Taph and Italy by NET and ANCTC associations.
The assumption is that Enerterre model whereby citizens help each other to renovate their homes and leading to more social cohesion can be implemented anywhere, as long as Enerterre objectives are met: provide a support to households who are in a situation of energy poverty, promote mutual help and solidarity through shared and accompanied self-rehabilitation and favour the use of local and natural materials.

Further information
Website
Good practice owner
Organisation
Enerterre

France