Image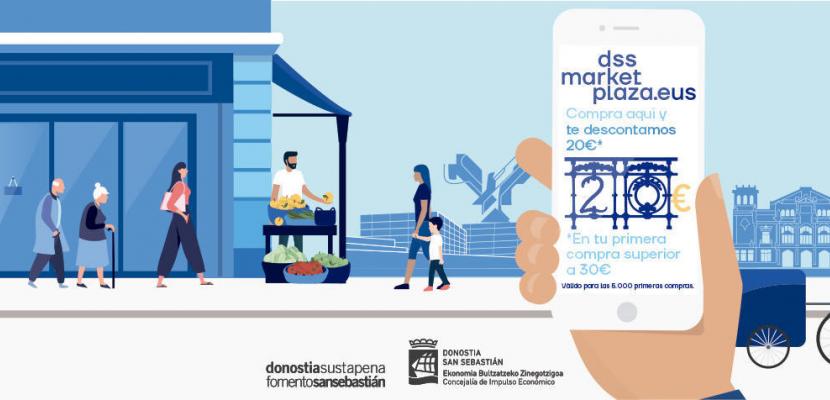 Donostia / San Sebastián Market Plaza (DSSMP)
Published on 02 March 2022

Spain
País Vasco
Gorka Díez
Projects officer
About this good practice
Fomento San Sebastian (FSS) is the public municipal company dedicated to the promotion and eco-social development of the city. One of its objectives is to improve the competitiveness, also through "digitalization", of local businesses in the retail/hospitality sectors. In this context, launched initiatives that aim to combine processes of digitalization with the concepts of Design, Creativity & Management
The COVID-19 caused serious disruptions and DSSMP was conceived as a public tool to support local SMEs and their digitalization processes in a framework of public-private management and collaboration.
Its main objective is the digitalization of the retail sector by offering a new publicly managed services and sales channel, as well as promoting training, growth and competitiveness in an environment of trust and local quality.
DSSMP fulfills its mission through a double effect:
-on the one hand, it is a tool that directly supports digitalization processes ("learning by doing"), and,
-on the other hand, it is also a public measure to directly support the competitiveness and the maintenance of business activity in the context of COVID-19
The main stakeholders and beneficiaries of this practice are the local retail companies, the citizens as users of the new service and the digital companies collaborating with the design and development of the platform and also acting as trainers of the retail companies adhering the platform. Sign up to see the expert opinion
Resources needed
a) DSSMP platform: FSS allocated around €300,000 of its budget to develop from scratch an own platform, provide technical assistance and disseminate it
b) Human resources: expert internal staff to manage the program and external experts in digitalization to provide training to adhering companies
Evidence of success
During the period from 1st Jul 2021 to 7th Jan 2022 (end Christmas campaign) these are the main data related to the impact of DSSMP:
-202 companies (8% of the total retail companies in the city) are permanent adherents
-more than 4400 products offered for sale
-more than 4400 users registered on the platform
-more than 5630 units sold (4634 unique products)
-413 orders delivered to home
-more than 3038 orders collected in the physical store
-more than €139,300 profit generated from sales
Potential for learning or transfer
This initiative is transferable and provides an interesting tool for public organizations to support local SMEs (in retail sector but also in hospitality and other economic sectors) that wish to be involved in digital transformation processes.

Internal resources within the public organization have to be allocated both from an economical point of view and also for the management process of this initiative.

Benefits are shared out among:
-The local retail companies: the programme allows them to increase the knowledge of the ICTs and digital solutions, implement them and improve their competitiveness ("learning by doing").
-The digital tech companies, that give their technological support for the development of the platform
-and, the citizens and final customers who can have better services and client/shopping experiences
Further information
Website
Good practice owner
Organisation
FOMENTO SAN SEBASTIAN

Spain
País Vasco
Contact
Gorka Díez
Projects officer