Image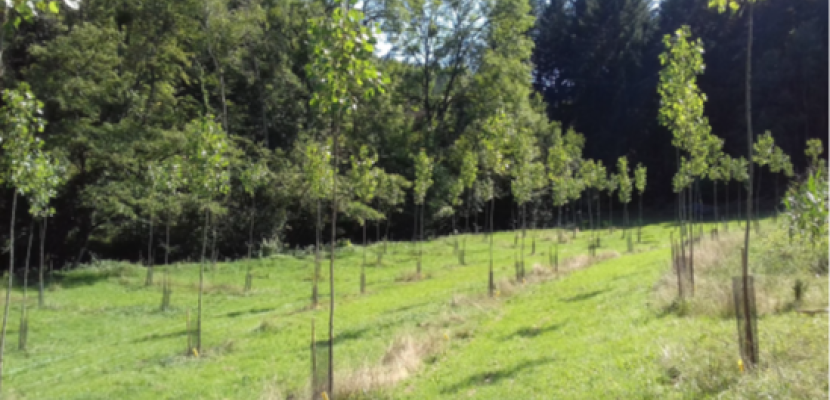 Carbon compensation in forests through labelled projects - CNPF
Published on 17 August 2023

France
About this good practice
After noticing that some companies wanted to invest in local projects and that some foresters lacked funds for their projects, the National center of forest property (CNPF) and I4CE took the opportunity of a European fund with the Massif Central public interest group to create a common standard for voluntary carbon compensation between 2015 and 2017: the Label Bas Carbone, then taken over by the French Ministry of Environment.
With this standard, methodologies must be written to be labelled and to be able to grant carbon credits. Having a lot of experience in forestry management, the CNPF elaborated three methodologies: afforestation, restoration of damaged forest stands and conversion of coppice to stump-planted forests. The objectives are to launch actions of the Label Bas Carbone in the forest field and to be able to finance forestry projects where any other fund could be received.
To reach these objectives, the CNPF first tested the methodologies on sites to investigate their feasibility under specific conditions and prove their efficiency. It is a way to measure the risks related to the growth of the forest and to assess the costs of the sequestrated carbon. Also, to ensure that territories, companies or citizens will accept to fund the project, the methodology must give enough confidence and be attractive, without being too complex to be understandable by most. To ensure this, the CNPF worked on a very balanced methodology. Sign up to see the expert opinion
Resources needed
Elaborating the three methodologies required one full-time employee during 6 months (it does not include the experience acquired by the CNPF over years or the time required for the update of the methodologies). The financial resources required were mostly linked to the income of the employee.
Evidence of success
Since the launch of the three methodologies in 2019, 1800 ha of land were afforested and 2300 ha of degraded forests were restored. In 2021, the projects cumulated 252 207 tCO2eq of potential reduction of emissions.
Also, in France, carbon credits are sold at a higher price when they are forest projects of the Label Bas Carbone than for other types of projects: it shows that buyers recognize the added-value of the projects.
Potential for learning or transfer
There are two main components that can be transferred to other regions: the existence of a national standard for carbon credits and the writing process of methodologies.
The accreditation standard for carbon compensation helps improve the quality of the projects conducted in France as they are labelled and audited. This encourages investors to commit into sustainable and local projects. This national system was launched with a decree in 2018.
The French experience highlighted the success factors of a good writing process:
- Determine the reference scenario (scenario without change)
- Calculate the carbon storage and the reduction of emissions linked to the project
- Demonstrate additionality: prove that there is a higher carbon storage in the new scenario than in the reference scenario
- Analyse the method's potential in the region / country where it is implemented
- Analyse the cost of implementing the method
- Have expertise in the field to be more effective in the drafting
Further information
Website
Good practice owner
Organisation
Auvergne-Rhône-Alpes Energy Environment Agency AURA-EE

France
Rhône
Other
Members are interested in