Image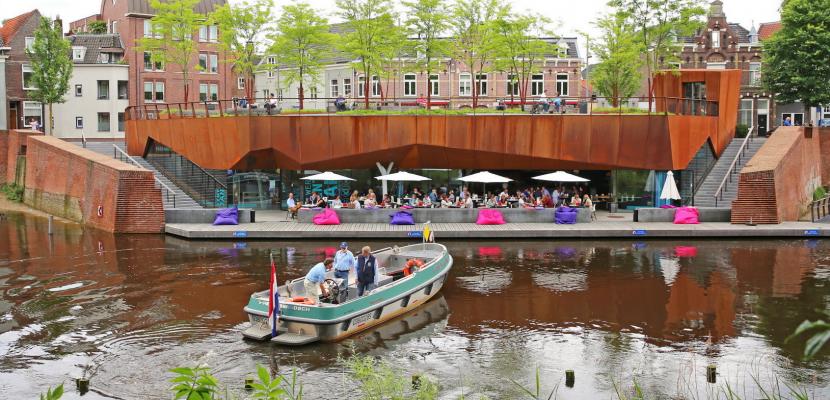 Bulwark Saint John's visitor centre
Published on 03 April 2020

Netherlands
Noord-Brabant
Marieke Muilwijk
Cultural heritage and spatial planning expert
About this good practice
The main call for restoration was linked to rising waters, threatening the inner city 's-Hertogenbosch, due to the disrepair of the (water) defence works. With restoration urgent but funding lacking, the municipality turned to an overall redevelopment plan for the former bulwarks, instead of opting for just restoration. Within the redevelopment, visibility, experience value and the reintegration of the iconic (former) inner city boundaries in the urban fabric were main aims, in addition to the hydraulic and aquatic properties that were necessary for serving as a retaining wall.
The threat from the water at the Bulwark Heritage Centre can be averted by placing a demountable weir between the flank walls of the premises, so it can keep the rising water (to 2,5 meters high) out, while remaining accessible to the public.
With the municipality as main stakeholder (owner), exploitation possibilities were found in renting the property to a local volunteer heritage association. They established a restaurant in the bulwark, a ticket office for guided boat tours and historic city walks, an visitor centre and an archaeological experience "archaeocrypt". In doing so, not only does the municipality break even, but has the ability to actually gain revenue from their heritage, which in turn can be invested further in other heritage projects. Sign up to see the expert opinion
Resources needed
Total budget of the initiative: € 3.790.778
25 FTE for the project development and management.
60 FTE for the restoration and construction.
8 FTE for the interior, the design/realisation of the archaeological experience.
Current employment: 6 FTE + 4 sheltered employment + 60 volunteers

Evidence of success
The Bulwark information centre is open to the public 365 days a year, 9 AM to 11 PM. It is visible along the main route from the train station to the city centre. The Bulwark attracts the attention of more than 5 million visitors who annually walk to the city centre of 's-Hertogenbosch.
The management of the information centre takes place without any public (annual) funding. The rent is not only cost-effective e.g. covering all costs, but also based on the current market value of the premises.
Potential for learning or transfer
Sustainable and adaptive (re)development of a former bulwark, with a long-term
economic viability as well as reintegrating the heritage in both urban fabric and society
itself;
Creating a social hub to the region and a gateway to town for both inhabitants and visitors;
Contributing to a climate resilient aquatic environment, while preserving cultural heritage;
Neglected historical structures of fortifications can be awakened just like Snow White. Even if they have partially disappeared from sight for a long time. Their regained visibility will result in a huge positive contribution to the identity, the spatial quality of the living environment and provides cohesion, cooperation and energy.
Further information
Website
Good practice owner
Contact
Marieke Muilwijk
Cultural heritage and spatial planning expert