Image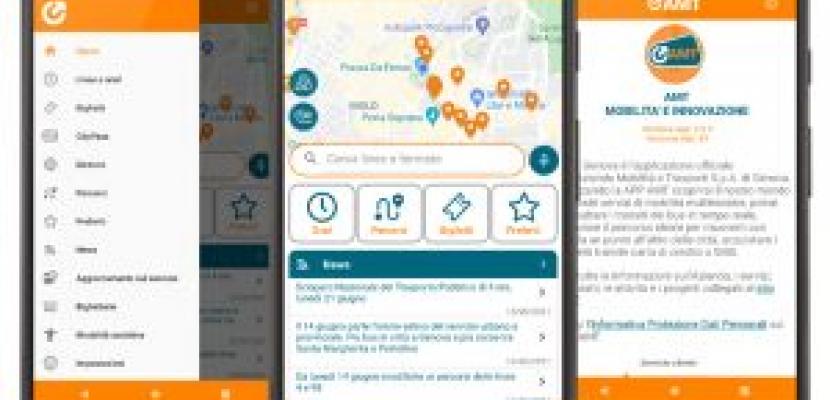 Published on 21 February 2022

Italy
Liguria
About this good practice
The AMT mobile application simplifies the travel journey of over 45 thousand daily active users by offering multiple functionalities. First, it allows to reduce or even eliminate the waiting for buses at the stops by monitoring, in real time, the expected waiting times on over 2000 stops.

The app also allows you to have the entire AMT service schedule in one touch: each line and service, in fact, have a dedicated page with full schedules and routes. AMT mobile application also enables digital ticketing. Within the app you can purchase digital tickets with just a couple of touches using credit cards or the cutting-edge payment technologies such as Google Pay and Apple Pay.. Moreover, users are able to register into the mobile App their subscription card and starting using the smartphone as a travel document; furthermore, the subscription can be easily renewed within the app.

AMT mobile application offers also functionalities to be always up-to date with service changes or temporary service interruptions; users are notified whenever there are changes to their favorite services (e.g. in case of service changes or delays, a real-time notification will inform the user).

Having an important asset like this mobile application is important for a complex transport company as AMT for several reasons that goes beyond providing a useful tool to their customers: it allows to better understand passengers needs and it serves as a driver for the digitization of process. Sign up to see the expert opinion
Resources needed
The AMT app consideres all services which belong to the public transportation managed by AMT: urban and sub-urban buses (139 urban lines and 10 sub-urban lines); trains (Genova-Casella); elevators (n°14); funicolars (n°3); navebus; volabus; underground; school services.
Evidence of success
Starting from the launch of the app, there are as many as 20 updates released by the developer, with over 230 thousand active users (of which more than 45 thousand daily) and over 20 thousand digitally subscribed subscriptions, with an average of about 4-thousand-day tickets purchased on the app.
Potential for learning or transfer
AMT started the project of developing the mobile application in the middle of 2018. At that time there was already a mobile app used by thousands of passenger, but the choice was to complete refactor and restyle the application to build a solid base for the future evolutions of the services that the Company planned to offer to their customers. Today the application has evolved and several functionalities have been added since the first launch, in February 2019. These evolutions has given the opportunity to strengthen the customer satisfaction by offering them innovative functionalities that meet their needs and expectations. Together with this, evolving the application has requested efforts not only in the development process but also in re-thinking some of the process of the Company in a digitalized fashion.
Further information
Website
Good practice owner
Organisation
AMT Azienda mobilità e trasporti SpA

Italy
Liguria