Image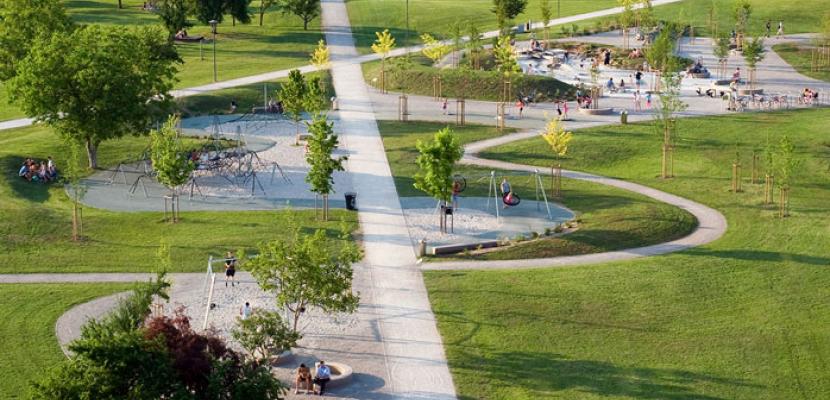 Šmartinski Park, Northern green wedge of Ljubljana
Published on 30 December 2019

Slovenia
Zahodna Slovenija
Gaja Trbižan
Project manager
About this good practice
In 2007 the area was cleared of illegal allotment gardens to demonstrate new urban development policy. This most delicate action was carried out with a lot of sensitivity to the gardeners and the future of gardening in the city as well as for the area's development. People were able to get explanations from the mayor on site and a professional team marked the existing trees to be protected from construction damage. After clearing a flowering lawn mixture was sown in the first season and the area was open to public while the process of designing started. Nearby local communities were consulted about their wishes and they confirmed a need for a new park and playground. In a new master plan the road that was bisecting the area was omitted as well. Due to its vast dimension of 13 ha the transformation of the area into a park was gradual, starting in 2007 and reaching its climax in 2016. In the first phase two basic walkthrough paths were erected, the terrain was reshaped and new large trees were planted in addition to existing fruit trees. The playground was designed later providing a play area for all, no matter the age, physical or mental ability. Its location was planned carefully, with a proper relation to the cemetery and out of impacts of main road and power lines. The design itself was to provide spaciousness, playfulness, water features and lots of vegetation. The transformation was very well accepted from the beginning amongst local community and visitors alike. Sign up to see the expert opinion
Resources needed
Funding: 2,5 MIO EUR / 4 phases
Human resources: Mayor's office (Mayor personally), municipal services (Office for Development Projects and Investments, Dep. of Urban Planning, Dep. for Commercial Activities and Traffic), public companies (Ljubljana communal utility company), design team
Evidence of success
This is a good example of interdepartmental cooperation, good and timely communication with the public and realisation of strategic documents (Green system strategy of Ljubljana). The new green infrastructure brings multiple benefits, e.g. new open green space for recreation and play, protecting the open view of the UNESCO site and a green wedge connecting the surrounding landscape with the city. The park and the playground are very well received and visited throughout the year.
Potential for learning or transfer
Šmartinski park was presented to the partnership (TCPA, UK, Cornwall Council, UK, City of Amsterdam, NL, Municipality of Ferrara, IT, Provincial Government of Styria, AT, Bratislava Municipality, SK, SASD, HU) and stakeholders during a study visit in Ljubljana. The good practice was referenced by partners TCPA, UK and Provincial Government of Styria, AT in their Action Plans as inspiration.
The practice encourages transfer to other municipalities / cites for the development of multifunctional green infrastructure (GI) and presents following principles:
- strategic planning and implementation of GI (e.g. Strategy of the Green System of the City of Ljubljana),
- interdepartmental cooperation in implementing of GI (cooperation of various departments, offices and services)
- timely and fair communication with the public
- integrated planning and implementation in phases (according to available resources)
- multifunctionality of GI - social, environmental, economic benefits.
Further information
Website
Good practice owner
Organisation
City of Ljubljana

Slovenia
Zahodna Slovenija
Contact
Gaja Trbižan
Project manager