Image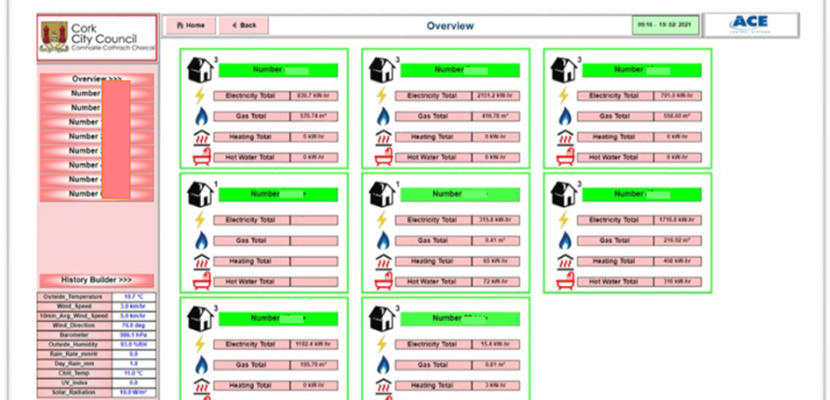 Energy and Environmental Measuring Monitoring and Reporting System (EEMMR)
Published on 07 November 2022

Ireland
Southern
Cork
EU Projects Officer
About this good practice
The EEMMR System was designed, developed, and installed as part of the EMPOWER project to monitor energy consumption in social housing units before and after a deep retrofit.
It measures gas consumption by the boiler, electricity consumption, air temperature, air pressure, and humidity in each social housing unit. In addition, it is connected to a weather station that measures a number of external parameters including wind speed, wind direction, temperature, humidity, air pressure, and rainfall.
The data collected can determine the energy consumption savings following a deep retrofit and can help to guide real behaviour change of social housing tenants. In addition, the data collected determines energy consumption patterns which can be combined with the buildings' energy rating of each social housing unit to determine the level of energy poverty to which social housing tenants are exposed.
The EEMMR System is portable and when energy consumption behaviour change is achieved in the initial 8 social housing units the equipment can be moved to other social housing units.
Resources needed
Costs to develop the software system, installation of the weather station, and install energy monitoring equipment into 8 social housing units was €90,534 following a public procurement tendering process.
Evidence of success
The EEMMR system was successfully installed in 8 social housing units in December 2021 and data is currently been collected through the energy monitoring system installed in each of the 8 social housing units and from the weather station. However, due to COVID-19, the retrofit of these properties has been delayed, and therefore the comparison of the energy consumption cannot be completed until the retrofit has been undertaken. This is likely to be completed by 01/12/2023.
Potential for learning or transfer
The process of procuring an energy monitoring system and the application by Local Authorities to determine energy consumption in social housing units are easily transferable to other European Regions. This is a cost-effective measure that is portable and therefore over time can have a significant impact on energy consumption, changing behaviour, and when combined with Buildings Energy Ratings can identify social housing tenants who are vulnerable to or are experiencing energy poverty.
Further information
Website
Good practice owner
Organisation
Southern Regional Assembly

Ireland
South-East
Regional public authority
Members are interested in
Contact
EU Projects Officer