Project summary
The issue addressed by the project is the necessity to implement European coordinated approaches for the management of waste from electrical, electronic equipment (WEEE).

WEEE Directive 2012/19/EU established, for 2016, a minimum collection rate of 45 % of all WEEE placed on the market in the preceding 3 years (in 2018, the EU rate was 47%), but from 2019, the rate rose to 65% (or 85% of the WEEE generated on the country).

European Court of Auditors 2021 review "EU actions and existing challenges on electronic waste" point out that the collection, recycling and reuse of e-waste are not equally effective in all Member States.

Unfortunately, each country in the EU has decided a way to implement the Directive, which means 27 different implementations. In 2019, only Bulgaria, Croatia and Poland achieved the 65% target, while other countries such as Italy, Romania or Germany were at the bottom of EU list with 40%.

WEEEWaste aims to implement better national, regional and local policies for management of WEEE, covering the main recommendations of the "Circular Electronics Initiative" from the EU Circular Economy AP.

The final objective of WEEEWaste is to promote reuse, collection, recycling and other forms of recovery of waste electrical and electronic equipment, supporting thus the achievement of the WEEE Directive 2012/19/EU.

Partners from 8 regions (Czechia, Italy, Germany, Spain, Romania, Hungary, Poland and Slovenia) will exchange practices in a discovery journey to modify their policies, focusing on:

- To improve the interregional coordination of municipalities and regions in order to fight more effectively against illegal shipment between areas and WEEE dumping.

- To introduce a holistic approach to the WEEE management, designing and testing practices which introduce the full sustainable consumption approach defined by the EU Circular Economy Action Plan (refuse; rethink; reduce; reuse; repair; refurbish; remanufacture; repurpose; recycle; recover)..
Image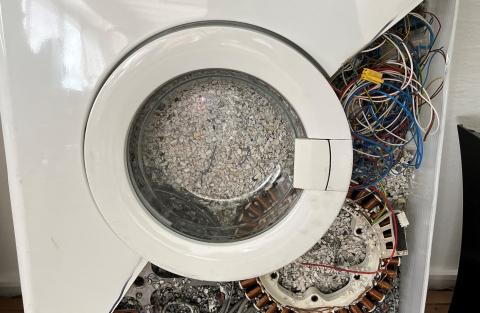 WEEEWaste Newsletter
Stay informed on the latest achievements and other news related to the WEEEWaste project
What will this project change
The WEEEWaste project will improve policies regarding management of e-waste as well as encourage reuse, collection, recycling and other forms of recovery of WEEE in the EU.
Through collaboration and the exchange of practices, a holistic approach to the WEEE management will be introduced. Improvements will be made in regards of interregional coordination between municipalities and regions for the purpose of preventing illegal shipments between areas and dumping of e-waste.
WEEEWaste will encourage the general public to think towards a more responsible management of e-waste as and reach policy makers, which will be able to influence the full range of WEEE improvements.