Interregional Study Visit - Donegal (IE)
09 Feb 2022
10 : 00 - 17 : 00 CET
In person | Letterkenny, Ireland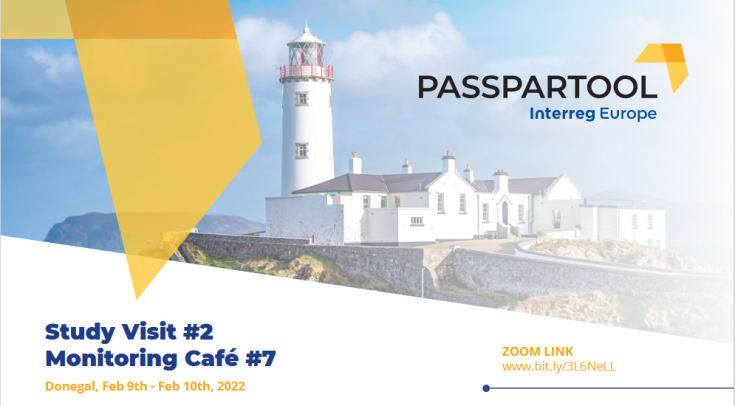 The last study visit of the project will be hosted virtually by Local Enterprise Office, Donegal County Council.
Participants will meet with representatives of local insitutions and creative businesses in County Donegal dealing with soft innovation practices.
Please, contact the host organization to join the event and receive the link.
THE AGENDA10:00 - 10:05 Official Welcome

Council Chairperson, 
Cllr. J Murray
10:05 - 10:45 "Local Enterprise 
Office Donegal -Strategies, Plans 
and Policies."
Michael Tunney
10:45 - 11:00 "We Create" 
- A video montage of creative 
businesses in Donegal.
Video
11:00 - 11:30 Discussion/Q&A

5 mins. comfort break
11:45 - 12:15 "Donegal Food 
Coast Initiative - Promoting and 
supporting innovation in the 
food sector in Donegal"
www.donegalfoodcoast.ie
Margaret Campbell
12:15 - 12:45 Case Study: 
Kinnegar Brewing – craft artisan 
brewing company with strong 
branding selling into national 
and international markets.
www.kinnegarbrewing.ie
Rick LeVert
12:45 - 13:15 Discussion Q&A 13:15 - 14:15 Break 14:15 – 14:45 "Creative 
Coast Donegal – driving 
entrepreneurship and 
innovation in the creative 
sector in Donegal"
www.creativecoastdonegal.ie
Grace Korbel
14:45 – 15:05 Case Study: 
Greeble
www.greeblefilm.com
James Doherty
15:05 - 15:15 Discussion/Q&A 15:15 - 16:00 Donegal 
Engineering Cluster- with its 
origins in a ProfitNet group 
the DEC aims to promote 
and facilitate a vibrant and 
innovative engineering cluster 
in Donegal.
EveAnne McCarron
16:00 – 16:30 Case Study: 
MMC Welding Ltd 
www.mmgwelding.ie
Martin McGuinness
16:30 Discussion and close