The European Commission has announced dedicated info-days for the EU missions to be held virtually between 18 and 19 January 2022 to inform potential applicants about the new topics included in the EU Missions work programme 2021 (explore the sessions and programme). 
The European Union (EU) is embarking on five missions guiding Horizon Europe, the next EU research and innovation programme for 2021-2027. 
Missions are not new — we can think of NASA's Apollo mission to put a man on the Moon. Such missions require innovation in across sectors—as diverse as nutrition, textiles and aeronautics—and hundreds of projects. Mission-oriented strategies translate challenges into concrete problems which require many organisations and sectors to collaborate (see Figure 1). Missions require a challenge-based approach, the creation of markets, and the integration of supply and demand-side policies (European Union). European research and innovation missions aim to deliver solutions to some of the greatest societal challenges facing our world. Those 'new' missions are more complex than 'old' missions as they not only require scientific and technological innovations but also societal changes (see Figure 2). 
Image
Figure 1. From challenges, to missions, and projects. Source: Mazzucato & Dibb. 
Image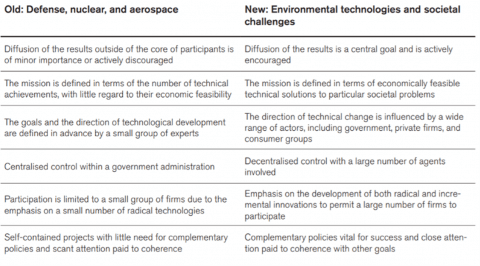 Figure 2. Characteristics of old and new mission-oriented approaches. Source: Mazzucato & Dibb. 
The following five missions and targets by 2030 were proposed by the mission boards:
Conquering Cancer: Mission Possible - Targets by 2030: more than 3 million more lives saved, living longer and better, achieve a thorough understanding of cancer, prevent what is preventable, optimise diagnosis and treatment, support the quality of life of all people exposed to cancer, and ensure equitable access to the above across Europe.
A Climate Resilient Europe - Prepare Europe for climate disruptions and accelerate the transformation to a climate resilient and just Europe by 2030 - Targets by 2030: prepare Europe to deal with climate disruptions, accelerate the transition to a healthy and prosperous future within safe planetary boundaries and scale up solutions for resilience that will trigger transformations in society. An interesting element focuses on European Territorial Cooperation and the Cohesion policy: the EC aims at 'scaling up actionable solutions triggering societal transformations through 100 deep demonstrations of resilience across a number of European communities and regions, with emphasis on cross-border cooperation and cohesion'.
Mission Starfish 2030: Restore our Ocean and Waters - Targets by 2030: cleaning marine and fresh waters, restoring degraded ecosystems and habitats, decarbonising the blue economy in order to sustainably harness the essential goods and services they provide.
100 Climate-Neutral Cities by 2030 - by and for the citizens - Targets by 2030: support, promote and showcase 100 European cities in their systemic transformation towards climate neutrality by 2030 and turn these cities into innovation hubs for all cities, benefiting quality of life and sustainability in Europe.
Caring for Soil is Caring for Life - Targets by 2030: at least 75% of all soils in the EU are healthy for food, people, nature and climate. The proposed mission combines research and innovation, education and training, investments and the demonstration of good practices using 'Living labs' (experiments and innovation in a laboratory on the ground) and 'Lighthouses' (places to showcase good practices).
The concept of mission-oriented innovation offers regional policymakers the opportunity to experiment and create bold innovation policies and to learn from good practices from regions across the European Union. Interreg Europe Policy Learning Platform offers a space for learning and knowledge exchanges on mission-oriented innovation approaches with a story on Grand Challenges: The New Mission-Oriented Innovation Frontier and a webinar on mission-oriented innovation policies. 
Image credit: Photo by Abdullah Ghatasheh from Pexels