Image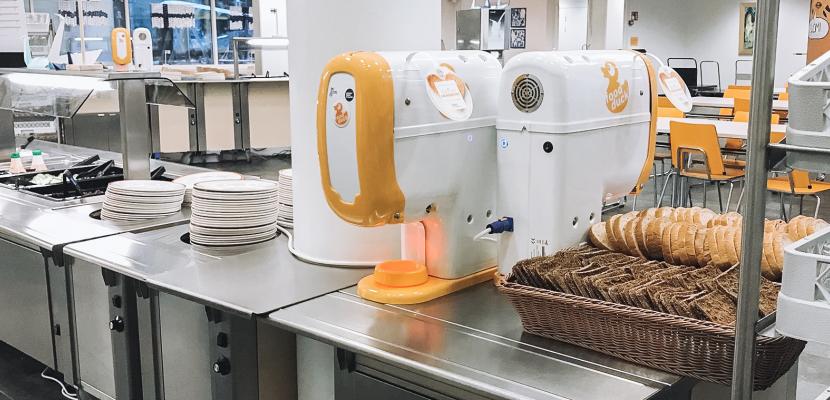 With automation against plastic and food waste
Published on 08 March 2021

Finland
Senior Advisor
About this good practice
Schools, day care centers and restaurants produce a lot of food and packaging waste. They are also hygienically challenging environments. Foodduck Oy Ltd is a pioneer of automated dispensing solutions for restaurant self-service areas and professional kitchens. The company is located in Naantali, southwest Finland.

Foodduck has created a highly ecological pure rental solution that reduces spread and packaging waste and is also extremely hygienic. Their automated spread dispenser requires only a fraction of the raw materials used to produce conventional spread packages. The portion size and the innovative technology is also controlled which reduces the amount of wasted spread.

The unique service can be remotely controlled using IoT technology which also enables collecting usage and consumption related data. This data gives the customer information about the benefits of the dispenser, and as well automatically anticipates upcoming service needs.

Resources needed
The company has 10 employees but about 20 people are employed by subcontractors who make the machines, the spread, packaging and provide maintenance. The company's spread packaging factory got circular economy investment funding for pilot factory that is designed to be scalable for any conditions.
Evidence of success
The FOODDUCK® dispenser produces a tenth of the amount of packaging waste compared to average spread package waste amount, and thus significantly reduces both environmental impact and the cost of waste disposal. The used spread package is also aluminium-free.The town of Salo, located in southwest Finland, piloted the dispensers 5 years ago and they are still using them. In town of Uusikaupunki, in one of their schools (about 400 diners/day) dispensers were able to save 500 kg of spread per year.
Potential for learning or transfer
FOODDUCK® dispenser solution provides a unique example of simple pure rental practise that makes every day spread serving easier, more hygienic, ecological and also economical. This product as service solution is in use in hundreds of schools, restaurants and day care centers around Finland and Sweden. Foodduck has also a patent in Europe, North America and Brasil, which provides its global potential for expansion.

An online site called "duck footprint" is in development. The service will provide customers information about the sustainability benefits. This site will help customers like municipalities in decision making and showing the sustainability of their business.

Further information
Website
Good practice owner
Organisation
Foodduck Oy Ltd

Finland
Etelä-Suomi