Image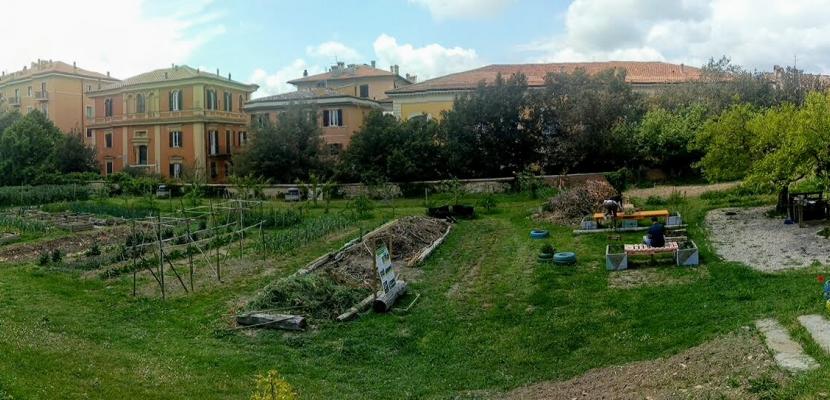 The vegetable gardens of St. Peter (Perugia-Italy): the rebirth of a forgotten place
Published on 17 July 2019

Italy
Umbria
Christian Gruessen
Project Coordinator
About this good practice
The project provides a location and a series of activities to engage the local population and various NGOs working with sensitive social groups in working together with University's students, faculty, and staff.
In doing so, the project has enabled the recovery and retrofitting of an abandoned area of an ancient Benedictine complex, St. Peter in Perugia (Dsa3).
The project started with a participatory design process in 2014.
The project now occupies an area of 1700 m2, and it is organized in operational area:
- Greenhouse project: to allow propagation of herbaceous and shrub plants from cuttings and seeds;
- Carpentry workshop: to build raised beds and furniture;
- Aromatic plants'slope
- Vegetable gardens: that occupies one larger area and 10 in-ground planters at the entrance of the area.
- Flowering plants plots;
- Common area: equipped with barbecue, tables, and benches under two ancient persimmons trees;
- Orchard and Vineyard: 21 trees were planted (apple, prunes, cherries, and persimmons) and 20 vine plants.

The main stakeholders are:
• University faculty and staff
• University students
• Primary school children
• People from the neighborhood
• Kindergarten kids
• American college students
• Elderly students
• Non-profit's patients with food issues (anorexia, BED, etc.)
• Psychiatric patients involved in daytime activities
Now the project is a "urban hub" for other local urban agriculture projects providing services and support. Sign up to see the expert opinion
Resources needed
The project has no dedicated fund, but the Dsa3 provides for buying equipment and materials. Each group of participants contributes if needed.
The number of people needed varies with the seasons and work to be done, but the heterogeneity of the groups covered all needs and workloads since 2015.
Evidence of success
The project has received attention from many local and national media.
From this project started a series of academic collaboration with important universities (the University of Washington in Seattle, and the University of Sheffield) that produced research projects, participation to various international conferences (IFLA 2016, Healthy Landscapes 2018, ECLAS 2018) and scientific papers (https://doi.org/10.1016/j.ufug.2018.05.007).
Potential for learning or transfer
Urban Gardening projects are started at many places, but often fail because they miss a clear focus, an identification of main target groups and a guiding hand. At the same time the benefits of therapy gardens for certain diseases are widely acknowledged. This project is a good example for combining the ideas of urban farming and the benefits of therapy gardens, both based on community involvement as well as on support by experts. It has also opended a wider local and regional relevance as a hub for other projects in the agricultural and health protection fields. These is in line with the objectives of UL2L and many urban-rural development policies.
Further information
Website
Good practice owner
Organisation
University of Perugia

Italy
Umbria
Contact
Christian Gruessen
Project Coordinator