Image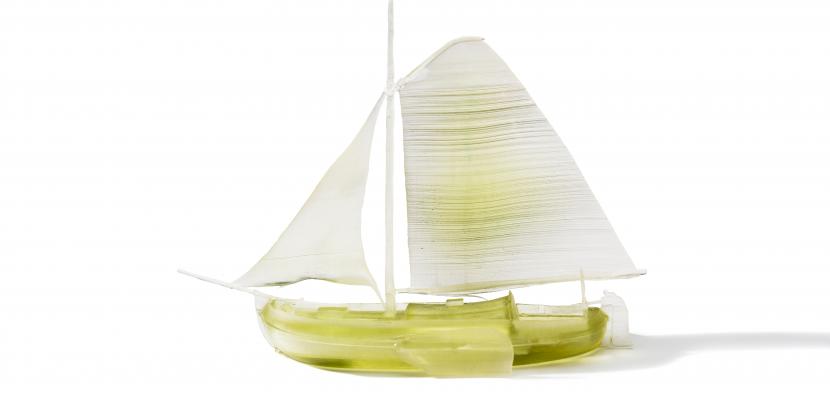 State yacht made out of circular plastic
Published on 19 July 2022

Netherlands
Friesland (NL)
Sander Bos
About this good practice
The State Yacht is the official vessel of the province of Fryslan. To us, the state yacht symbolises the circular economy. Not only has the ship been recycled countless times, but the Frisian population has come together to restore the vessel to its former glory so it can sail the waters of Fryslân once more.
It all began with an idea to preserve the state yacht using sustainable circular plastic. That idea was quickly dismissed. Although design drawings were available, there were no 3D drawings of the state yacht. In terms of planning and execution, it was not feasible to pull the vessel out of the water to be scanned in the middle of the yachting season. Luckily, the international game development company Grendel Games - located just fifty metres away from the provincial hall - offered to help.
Using the model of the state yacht from the National Maritime Museum and various pictures and design drawings, they managed to create a 3D design and a perfect replica of the state yacht. Together with the lectorate sustainable plastics of NHL Stenden University of Applied Sciences, 3D prints of the yacht were made out of sustainable plastic.
After a period of designing, experimenting and fine-tuning, this resulted
in the first state yacht made out of sustainable plastic.
Resources needed
The development of the circular State Yacht was commissioned by the Province of Fryslan. Regional stakeholders put on top of that a lot of inkind time and energy into the project to create this circular icon.
Evidence of success
The 3D printed State Yacht is developed and actually printed. Together with a magazine and video it is used as a unique circular giveaway for relations of the province of Fryslân.
Potential for learning or transfer
In recent years, initiatives are being launched all over the province to help realise a more circular economy in Fryslân. It is mostly businesses and organisations who are leading this charge.
However in our pursuit of the circular economy we realize that we can only achieve this by working together. Therefore, get on board and help us chart a course towards a sustainable and circular future.
Further information
Documents
Website
Good practice owner
Organisation
Province of Fryslân

Netherlands
Regional public authority
Members are interested in