Image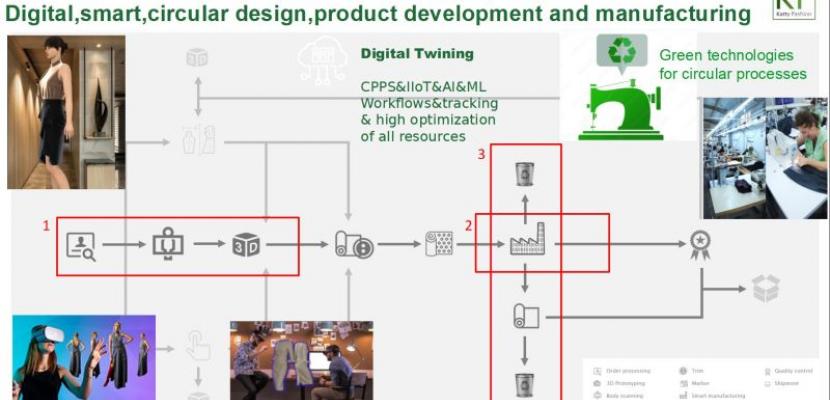 Published on 27 June 2022

Romania
Adrian Andrei
Expert
About this good practice
They decided to develop from scratch an entirely cloud-based platform, accessible from any device, to integrate all administration processes, and to include a number of modules pertaining to the circular manufacturing model. The idea was to allow the company to address all of its process issues, while at the same time, adding unique value to their proprietary KARE platform in terms of its potential for being licensed to other companies.
It was also challenging to work out how to integrate the PLM with CAD/CAM, front-end data input and an ERP solution. A related challenge was how to avoid potential operational delays arising from the switchover to the company's new digitalized administrative processes. To address this issue, the company decided to develop temporary online forms, which could also be used as the basis for the development of their digital platform.
KARE it will be developed as a 360 PLM/CRM/ERP integration platform with some of the most unique features like modules that will allow co-creation in collaborative digital in time interaction and virtual areas were beside virtual validation of styles features, components, processes and automatic calculation of costs/prices will be offering integration of other solution providers for efficient and effective management of digitally enabled on demand&circular&smart manufacturing business model.
Resources needed
1,5 mil Euro for developing the Living-Lab
Evidence of success
Success factors: digital platform - efficient management of production and challenges linked to the digitalisation of business processes
New features such as photo enabled pattern digitisation, pattern and fit development protocols and style history have improved the efficiency and speed of development, while adopting 3D technology has the potential to reduce the number of samples required, which is expected to reduce cost, waste and time of style development, while K.F. diversify its services.
Potential for learning or transfer
At European level there has been identified the need to turn the textiles sector from a highly polluting one, to a more sustainable and eco-friendlier sector.
The switch from a traditional business model towards a circular digitalized business model represent a good example of industrial transformation in the fashion industry. The KARE model because is based on collaborative, customized and sustainable product development services and on demand, circular manufacturing can be addressed to fashion brands and manufacturers at regional, European Union and global level.
The project is considered interesting because Katty Fashion intend to lower their environmental footprint and to offer better work conditions and improved business solutions in order to impose a vital paradigm shift in the fashion industry.
Further information
Good practice owner
Contact
Adrian Andrei
Expert