Image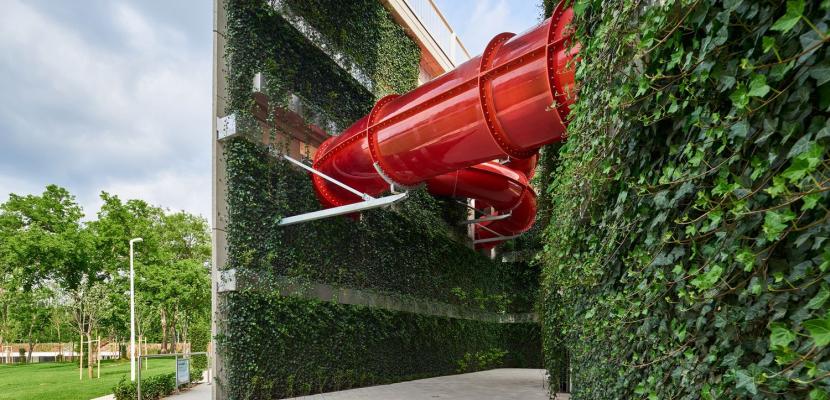 Establishment of modular and vertical green-walls
Published on 01 April 2021

Hungary
Észak-Alföld
Gyula Dézsi
Urban development expert
About this good practice
Poor air quality and urban heat island effects are among the environmental problems of today's cities. Climate change negatively affects these processes. A conscious and planned increase of urban green spaces has been proved to:
• enhance urban biodiversity,
• build resilience of cities,
• improve air-quality,
• reduce heat-island effects.
Overall, it provides healthier living conditions of the citizens. In cities, however, there is often little space for new green areas due to the dense built-up. Giving that fact, this good practice tries to aim at increasing non-traditional, the so-called vertical green spaces, which could be a new approach.
Parkertech Ltd. which is a company located in Debrecen is the designer and implementer of these kind of green walls. The Municipality of Debrecen used this technology to increase green spaces in the new open-air bath (project finished in 2020 May) and at bus-stops in different parts of the city.

Resources needed
Staff:
- a group of planners coordinated by Parkertech Ltd.
- co-workers of Parkertech Ltd. involved in implementation
Resources:
- production capacity of Parkertech Ltd.

Evidence of success
Large buildings have large, vertical surfaces which are ideal places for green walls. A green wall is a good way to increase green spaces in the inner urban areas. They have several functions:
1) to reduce the temperature of buildings
2) increase the green spaces and biodiversity in urban areas
3) in vertical green walls circulating water is less likely to evaporate than in horizontal gardens
4) remediation of poor air quality, and purifying the air
5) reducing heat-island effect

Potential for learning or transfer
The company's experience with the design and implementation of these green walls could be shared with other regions and municipalities such as the conditions for planting, species etc. The Municipality can share its experience of maintaining green walls (costs, challenges). The positive effects on the urban environment can also be demonstrated to other regions/municipalities
Further information
Website
Good practice owner
Organisation
Parkertech Ltd.

Hungary
Észak-Alföld
Contact
Gyula Dézsi
Urban development expert